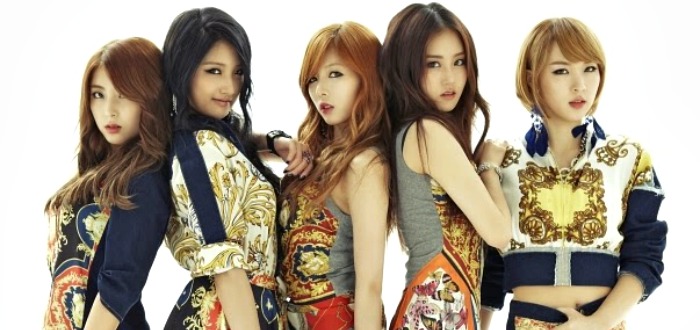 If you haven't heard the news, popular Kpop girl group 4MINUTE have disbanded. Hyuna is the only member who has renewed her contract, while the other 4 members have decided not to continue on. In light of this, we decided that all of today's recommendations will be 4MINUTE's best Korean releases. This was a really hard list to compile because pretty much ALL of their songs are fantastic, so please make sure to check them out!
First up is their debut track 'Hot Issue' from the album For Muzik. It was released in 2009. 'Hot Issue' is really catchy, and was a great song for the girls to debut with!
For Muzik was really well received, and next up on our list is 'Muzik' from the same album. This song is definitely one of the most well known from the 'golden era' of Kpop. The video is really colourful and full of sexy dance moves!
Jumping ahead to 2012, the girls released 'Volume Up', from the mini album of the same name. The music video is rather simple, but gorgeous. Jiyoon and Gayoon's powerful vocals will blow you away! 'Volume Up' also got a Japanese release the same year.
4MINUTE had a string of hits between 2012 and 2015, but 'Cold Rain' from the Crazy EP really deserves a place on this list. For a change, it's a ballad song, and it really showcases all of the girls voices equally and beautifully. They also look stunning in this simplistic video.
'Crazy' was also released around the same time, and is another fantastic example of 4MINUTE's style. It's fast paced, catchy and you will definitely be dancing along with the chorus! Gayoon kills it in the pre-chorus and Sohyun will have you drooling in her parts. The music video is also quite visually appealing, despite being in black and white.
We're going to end with their final release 'Hate', a collaboration with Skrillex from their seventh mini album. The lyrics are actually about a woman's feelings when she realises a breakup is inevitable, so it was a fitting track to finish up with. The music video for 'Hate' was viewed more than one million times on Youtube in less than 24 hours of its release.
We at Kpop Ireland are very sad about the disbandment of 4MINUTE, but we wish the girls all the best in their futures and can't wait to see what they do next!