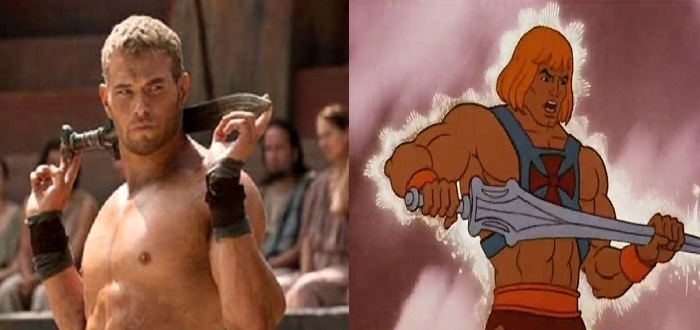 Could Kellan Lutz Be The New He-Man?
The Masters of the Universe movie may have found their lead actor. Kellan Lutz has been in discussions with McG's Wonderland Productions to possibly portray He-Man in the long gestating film. McG has been attached to the film for some time with his production company and Mattel working together. Preliminary talks do not necessarily mean much, but considering for the past year and half there has been little to no movement on the project, this changes things slightly.
Kellan Lutz is probably best known for his role in the Twilight franchise, however, he also starred in the ensemble film Expendables 3 where former He-Man, Dolph Lundgren, was one of the co-stars. The original Masters of the Universe film was released in 1987 and was not given much love from fans of the 80's cartoon and Mattell toy line. Kellan took to social media to announce the meeting he had with Wonderland Productions via Twitter.
Hey @HeManTheMovie and all MOTU fans,

Had an amazing meeting with @McGsWonderland and @ItsMaryViola talking MOTU!

ITS IN GREAT HANDS! 💪⚔

— Kellan Lutz (@kellanlutz) June 24, 2016
He-Man and the Masters of the Universe began as a toy line by Mattel that had a tie-in animated series. The series ran from 1983 – 1984 and took place on the planet of Eternia which was defended by He-Man. The series spawned a spin-off, She-Ra: Princess of Power, which ran from 1985 – 1986 and was centered on He-Man's twin sister.
New Project
According to MovieWeb, McG and producer Mary Viola have been working to get the project off the ground since early 2016. Working from a script by the writing team of Alex Litvak and Mike Finch, and the latest draft by Chris Yost, McG is trying to oversee what could become a franchise blockbuster. This could also mean that McG, himself, will also be directing the film.
With Kellan Lutz, the long in development project, may finally be taking the steps forward to actually get into production. No word yet on any other actor that's been in talks, but that does not mean there haven't been any. The question now is: Can Kellan Lutz live up to expectations? Only time will tell.