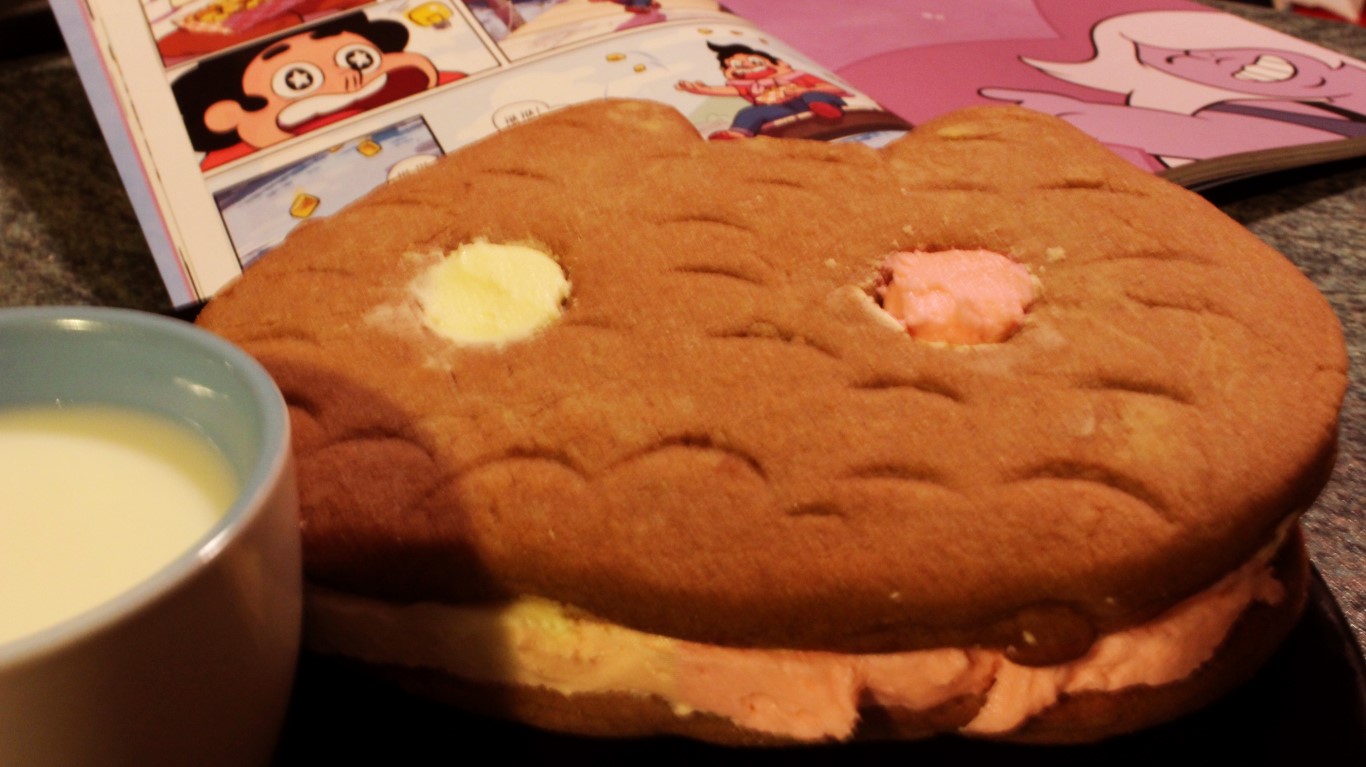 Geek N' Bake: Steven Universe Cookie Cat
In the very first episode of the greatest cartoon series (that I'm totally not biased about) Steven Universe, we got to feast our eyes on what looked like the greatest icecream ever! The 'Cookie Cat'! How do I know it's the best dessert? Steven is not only traumatised by their discontinuation, he's not only able to sing the theme tune, the feelings of eating one saved by the Crystal Gems allows him to draw on his weapon!
Now if that doesn't say best dessert ever then nothing will! Unless you actually make one and eat one and realise for yourself that they truly are out of this world!
DIFFICULTY
Normal
TIME
1 hour prep
1 hour chill
15 minutes cooking
INGREDIENTS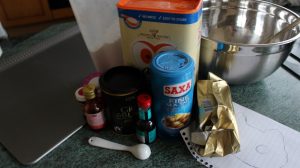 Cookie: 3/4 Cup Powdered Sugar, 1 cup unsalted butter, 1 1/2 cups plain flour, 1 egg yolk, 1 tsp cocoa powder, 1/2 tsp salt, 1 tsp vanilla essence
Filling: 100g unsalted butter, 200g icing sugar, 1 tsp vanilla essence, 1 tsp strawberry essence, a splash of red food colouring.
PROCESS
Preheat your oven to 175C! We're going to start by making the dough for our butter cookies. You might be looking at the time/duration for this recipe but there is a lot of chilling/resting to be done with the dough.
In a deep bowl, pour the powdered sugar, cocoa powder (I used one tsp in hindsight I'd probably up the amount to a tbsp and reduce some of the sugar to make up for the increase), butter and egg yolk. If you're making cupcakes you'll be used to the texture, you're creaming the ingredients together but it won't take as much effort as you're using icing sugar and not caster – so less work! At this point you can add any flavouring to the mix and a half tsp of salt, stir in.
Once fully combined, tip your flour in and work it into the mix. If it looks a little dry don't worry about that, it's meant to be! If you're panicked that it's drier than Pearl's sense of humour then add a little water. Work the dough into a ball, place into a freezer bag, seal and place in the fridge. Allow the dough at least an hour to rest in the fridge but you should be giving it two if you can spare the time.
While your dough is chilling and hanging out in the fridge trying to be cool like Lars you can get your arts and crafts kit out! The dough we're working with is easily cut and shaped as desired so create a stencil from some paper of Cookie Cat's adorable puss and set aside.
You can make the filling for the cookie sandwich but I held off and went and watched a couple of episodes of Steven Universe while the dough rests.
On a clean and floured surface plop your now chilled dough out and work with your hands and a rolling pin. I rolled mine out in a rectangle about a quarter of an inch thick. I placed my cookie cat shape down and pressed it gently into the dough to keep it still. Then using a sharp knife I cut out my cat, setting the trimmings aside for the second cookie. I cut the eyes a little smaller than I wanted but used my finger to push and press the dough edges out.
Place the cut out on a floured baking tray and repeat for the second half of your cookie sandwich. You don't need to cut out eyes for this one. To get the the ridged imprints on the cookie cat as seen in the cartoon, I used a teaspoon and just push it gentle into the dough.
Place into the oven for 14 minutes, I like a crispier cookie so I let mine in for an extra minute. Once cooked removed from the oven and set aside to cool
The icing filling is pretty quick and they're are some really nice variations available but I'll get to those in a minute. Measure out your butter and cream it in an electronic mixer, then add your powdered sugar. Seperate the mix into two bowls, in the first add a half tsp of vanilla and mix well. In the second add your strawberry essence and food colouring and stir to combine well. If you get a flat pink like I did the first time, go back and add a little more.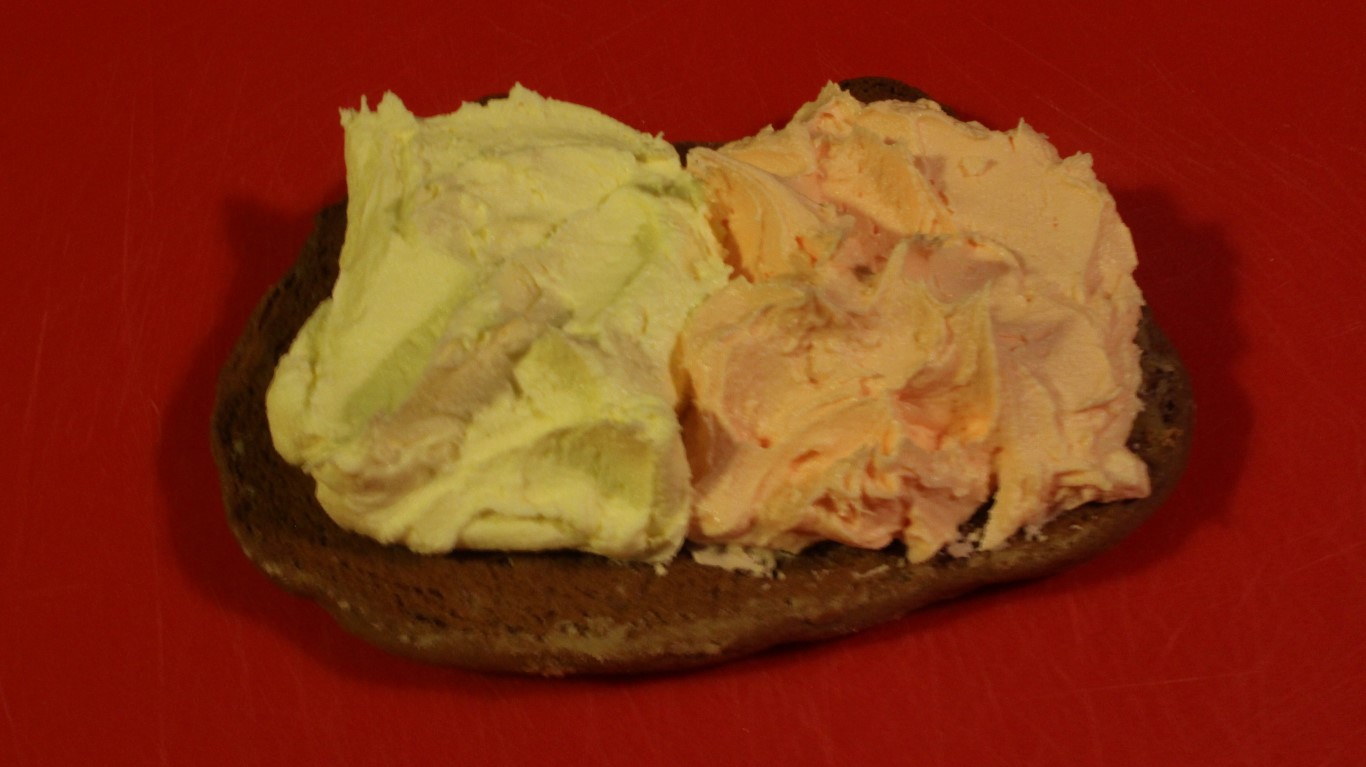 Spoon it onto the whole cookie, splitting the mix half and half. You can see the dull pink colour I had at first above. Using a small spatula or icing shaper or teaspoon if you haven't got anything else smooth out the icing and then place the second half of the sandwich on top. Gentle press down on the top half, the icing should rise through the cookie eye holes, press until they've reached the top. Smooth out any spillages on the edge then place into a freezer bag, pop into the fridge.
Serve chilled with a tall glass of chocolate milk! Or forget the chilling, serve straight away with a shot of milk and curled up on the sofa with a stack of comics! Just like Steven, I start with the ears first!
For a creamier, filling, using cream cheese and double cream, mix as above but allow it chill in the fridge/freezer before spreading on the cookies.
Editor-in-Chief, part-time super villain and hoarder of cats. If you can't find me writing, I'm probably in the kitchen!