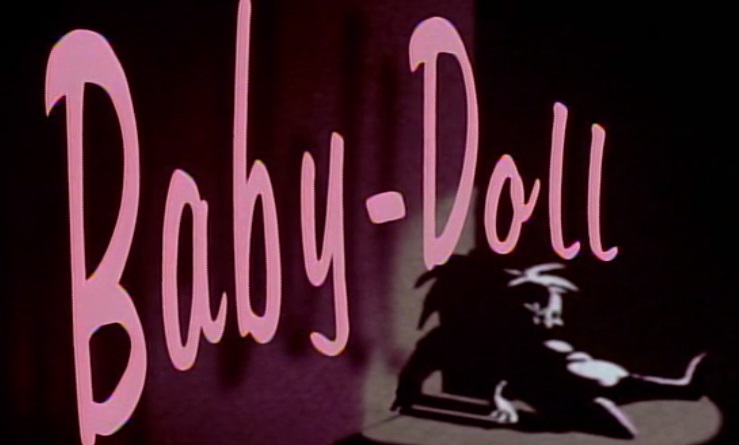 Forgotten Childhood – Batman TAS: Baby-Doll
Batman TAS (The Animated Series) is second to none in its adaptation and interpretation of the legendary comic book characters. It's also known for creating new heroes and villains. While some became staples of the mythology (Harley Quinn, Renee Montoya) others are best suited for one-off adventures. These little stand alone stories have no real star power but go way beyond mere filler. These episodes always feature a theme or moment which leaves a lasting impression and Baby-Doll is one such episode.
Batman and Robin are after Mary Louise Dahl, a former child actress who doesn't age physically due to a rare illness. Once the star of her own family sitcom "Love that Baby", your typical American prime time affair complete with comedy hijinks, living room setting and insipid catchphrase; "I didn't mean to." uttered every time her character, Baby Doll, got into trouble. 
Dahl eventually grew sick of the show and left to pursue a theatrical career which ended abruptly and disastrously. She eventually retired from acting and became a recluse. Now in her 30s and unwilling to face reality, Dahl embraces the fantasy of her TV world to a psychotic level and begins kidnapping her former cast members for a big fake family reunion.
Nobody could write a script like Paul Dini and I think this is one of his best. He can keep the dark atmosphere without undermining the action as well as keep the story moving while dealing with multiple characters. Baby-Doll also has a fair few references that will delight both casual and TV savvy viewers. The classic psychological thriller What Ever Happened to Baby Jane serves as the main inspiration but it's mixed with familiar aspects of American TV culture too, including a reference to the infamous "Cousin Oliver", a character which was introduced in The Brady Bunch to increase ratings and suffered a terrible backlash. The downward spiral suffered by many a child actor, especially those in sitcoms, always been the stuff of legend for decades and while slightly exaggerated in Baby-Doll, it's still beautifully observed and satirised. Gary Coleman from Diff'rent Strokes and Danny Bonaduce from The Partridge Family are two classic examples but as long as there are still Lindey Lohans and Amanda Bynes' out there, Baby-Doll will remain as significant as ever.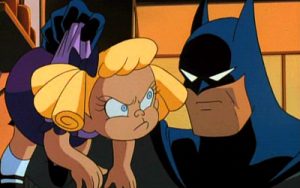 Of course as with any Batman episode there are some great action scenes which are rather clever. Baby-Doll uses her child like appearance to momentarily distract the Dynamic Duo, giving her enough time to either shoot at them with a semi automatic pistol hidden inside her doll or set her own personal kung fu kicking henchwoman, Miriam, on them.
There are also some scenes that are just plain cool. After discovering Dahl's hideout, Robin rescues the kidnapped victims while Batman chases the fleeing actress. The pursuit leads the pair to a nearby amusement park where Dahl tries to hide among a crowd of children. If there was any doubt of Batman being aware of his own awesomeness it's erased here when, in a spectacular moment of theatricality, he strikes a bad ass pose in full view of the youngsters who flock to see him, thus exposing Dahl who runs the opposite direction. I always loved this moment as it confirms a long-held debate among Batman fans; does Batman know he's awesome. This bit proves that clearly he does. But The Animated Series also showed a side to The Dark Knight which we don't always see. Seeing her run away, Batman chases Dahl into a fun house, trying in vain to reason with her. "I know you're scared, confused. I can help you!" The Animated Series was very wise to depict Batman as a true hero who shows a degree of compassion for the villains and not as a single-minded fanatic. 
Eventually, Dahl tumbles into the traditional hall of mirrors and the episode reaches its emotional climax.Up until now Baby Doll was clever cartoon fun with good action and a witty script complimenting the sinister subtext. The finale however takes such a dramatic turn it is actuality heartbreaking.
True Self
All the humour and playfulness are gone with only the tragedy remaining. When Dahl is in the hall of mirrors she sees a reflection of her real self as a grownup. "That's me in there. It's really me." With Batman nowhere to be seen she reaches out to hold hands with the woman in the mirror, tears welling up in her eyes. Then she looks down at her own childlike arm. In a truly tear-jerking moment, she suffers a complete mental breakdown and opens fire on all the mirrors around her, shattering them to pieces. The final mirror is the one in front of her. The one featuring her true self. "Why couldn't you just let me make-believe?" In her final act of defiance, she empties the clip at her adult self and is left standing alone in an almost catatonic state as she keeps squeezing the trigger of her empty gun.
Batman approaches her as she remains transfixed at the blank space where her true self once stood. Finally she turns to Batman and starts sobbing, delivering her once comedic yet now tragic catchphrase. "I didn't mean to."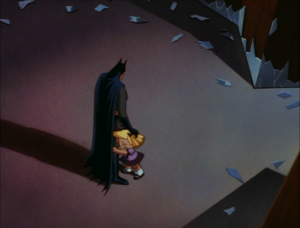 There are many legendary moments from this remarkable series and in my opinion, the ending of Baby-Doll can stand next to any scene with Heart of Ice, Robin's Reckoning or I Am The Night. It switches from a great piece of Saturday morning entertainment to dark psychological drama without a shred of contrivance. This is all down to Paul Dini whose mastery of pacing, tone and character development proves that he is one of the greatest writers in television history. Anytime I have a Batman marathon I always include this episode in the playlist. It's not the most famous but it certainly is one of the best.