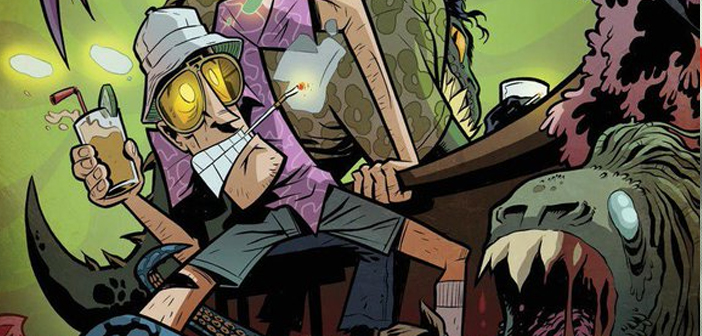 Fear And Loathing In Las Vegas #1 Review
I've not read the book! I've not watched the movie! All I've seen is the poster and the quote about 'bat country'! This is my first experience of Fear and Loathing in Las Vegas and I've no clue what my experience with the first issue of the comic should amount to. Other than confusion, intrigue and a lot of thought about drugs, of course.
Based on the original novel by Hunter S. Thompson, the comic has been adapted by Canadian cartoonist and writer Troy Little and published by IDW. For those as unenlightened as I was/am to the source material, allow me to fill in the blanks; a journalist and his attorney drive to Las Vegas to cover a racing event all while dropping some very heavy drugs.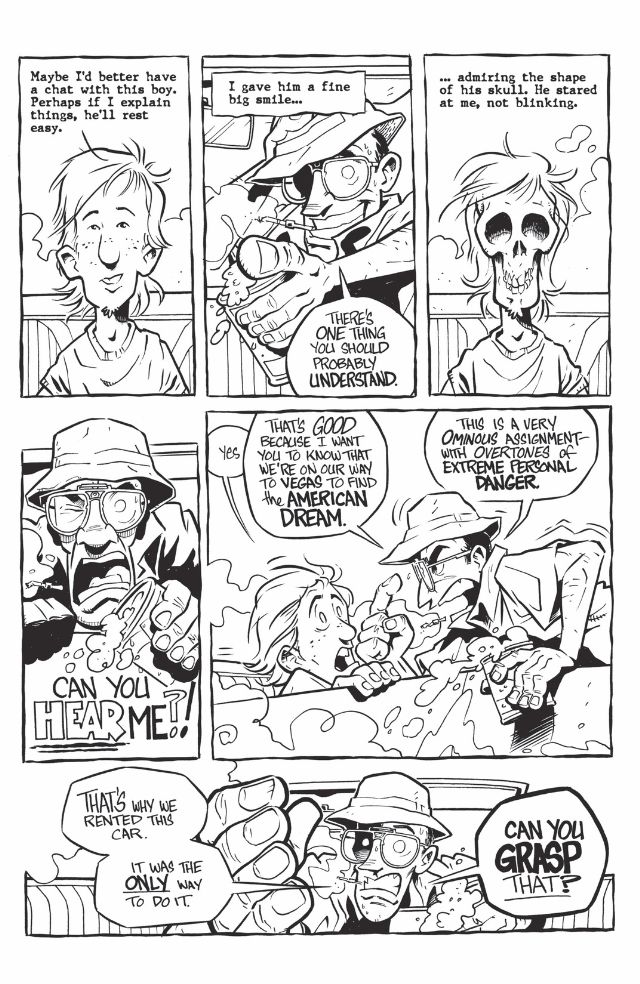 From the start right through to finish the comic is utter chaos! The good kind of chaos, if not a little drawn out! As I said above, I've no real experience with the original material or the movie adaptation, but the comic is a fantastic trip in its own right. As reader/spectator we watch as Raoul Duke and Dr. Gonzo trek their very high selves to Las Vegas, traumatising a young hitchhiker along the way, then dropping acid before making a shambles of collecting their press passes. It reads as confusing as it does funny! The same way you've always imagined a weekend trip to Amsterdam!
Admittedly, I struggled to see where this might appeal to someone who wasn't already a fan of the book or movie. I received it by chance, a stroke of luck, but nevertheless it's not something I would have picked up on my own and that would have been a shame! Little retells an interesting story, and the panels are eclectic jumbles of distorted, wavy, hazy black ink.
The one drawback to Fear and Loathing in Las Vegas #1 would be the length. It's a high that becomes a little too much and I ended up wishing I'd not hit the last few pages. It took a second long, slow read for me to fully cover the comic and even that felt like a headrush that lasted a little too long.
Fans should be picking this up and adding it their collection, and for those of you who like their comics on the trippier side of things, you won't find anything better to get a hit off than this! Personally, I think I've had my fill, so I'll pass Fear And Loathing In Las Vegas to the left hand side!
Have you read this? Did you see the movie? Let me know your thoughts in the comments!
Editor-in-Chief, part-time super villain and hoarder of cats. If you can't find me writing, I'm probably in the kitchen!