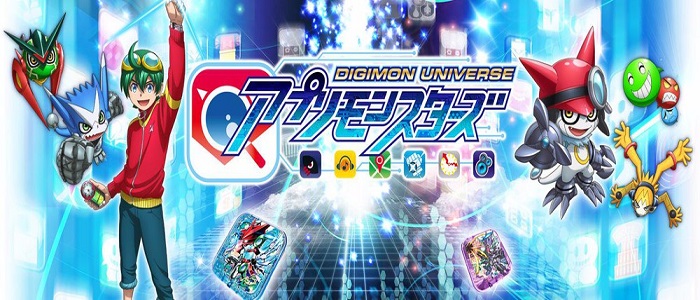 Digimon Universe: Appli Monsters Trailer Features Full Multimedia Experience
Digimon has spawned many series and characters since the original movie and series in 1999 and fans will not be disappointed with the upcoming Digimon Universe. So far, there have been eight different series (some of which are TV series, some of which are movie series) and the latest and ninth instalment, Digimon Universe: Appli Monsters, has been given its first all-round trailer. 
The trailer not only shows the upcoming anime, due to air in Japan on Tokyo TV in October, but also the varied collection of merchandise and games, including an app and a tool (which, as you may have guessed, is central to the show). 
This trailer can be viewed below: 
Digimon Universe will follow a plot-line centered around a brand new character, Haru Shinkai, who encounters Appli Monsters, which live in the the most-used digital item of our day, smartphones. This balance between their digital world and ours is a great one until Al Leviathan, who we can presume is the series' villain, threatens this balance with a virus. Of course, world domination through technology is on his mind and Haru, who simply wanted to use his Appli Drive to connect with Appli Monsters with search app, Gacchimon, is forced to become a hero.
Also becoming available in October are the key tools of the series, Appli Drives and Appli Chips. These items don't come cheap, of course, with chips alone costing around €32 each and the drive costing around €600. If fans are curious they can check out how these items function together below. The video also contains a sneak peek at the 3DS e-shop game, Appli Monsters: Cyber Arena, which players can use to scan in Appmon chips to use them in battle. There is also a look at action figures.
The new series is the latest since Digimon's recent 15th anniversary celebratory movie series, Digimon Adventures Tri, which was released in Japanese cinemas in November 2015 and March 2016 with the final film set to release this September. These films, which did tremendously well in Japanese cinemas, in some places were broken in two parts per movie, returned to the old favourite characters of the original Digimon Aventures including Tai Kamiya. Some limited online release of the English dub for fans in the US,Canada,South Africa, Australia, New Zealand and Latin America also happened through Crunchyroll. Although there are many illegal streaming services that have it this side of the pond, no official release has yet been revealed for Digimon Adventures Tri in Europe.