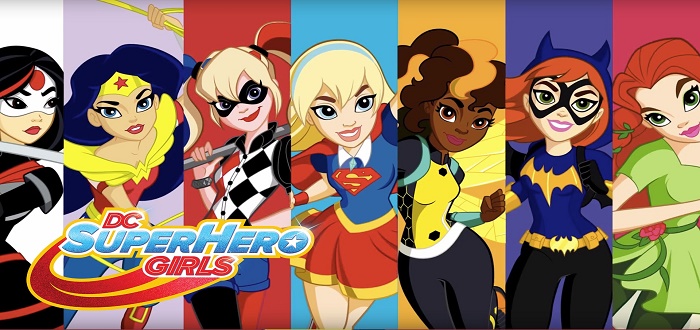 DC Super Hero Girls Gets Animated Feature Treatment
DC Entertainment and Warner Bros. Home Entertainment have decided to move forward with an animated feature based on the popular DC Super Hero Girls franchise. The feature will be bear the title: DC Super Hero Girls: Hero of the Year and will be available this August. The 72 minute feature will be made available in Digital HD on August 9, 2016 and DVD on August 23, 2016.
In the fall of 2015, DC Entertainment began a new initiative to showcase the female heros of the DC Universe aimed directly at girls. This endeavor lead to the creation of DC Super Hero Girls which follows the adventures of teenaged versions of Wonder Woman, Supergirl, Batgirl, Harley Quinn, Bumble Bee, Poison Ivy and Katana. Not only are they in high school known as Super Hero High, but they have to deal with being teenagers with superpowers. Initially this project was just a series of animated shorts online but the popularity demanded more. This led to two DC Comics graphic novels, an extended special on Boomerang and a wide variety of toys and accessories. Now the time has come for their first animated film and will feature the voice talents of: Grey Griffin (Wonder Woman), Anais Fairweather (Supergirl), Mae Whitman (Batgirl/Barbara Gordon), Tara Strong (Harley Quinn/Poison Ivy) Teala Dunn (Bumblebee), and Stephanie Sheh (Katana).
In a press release, Mary Ellen Thomas, WBHE Vice President, Family & Animation Marketing said, "Warner Bros. Home Entertainment is thrilled to team with DC Entertainment to release DC Super Hero Girls: Hero of the Year on DVD. We're excited to bring DC Super Hero Girls to life and create an immersive world to help inspire young women like never before. These characters were developed with girls 6-12 in mind and will deliver epic story lines featuring strong females. It truly embraces and celebrates girls as they discover their own unique abilities."
https://www.youtube.com/watch?v=YD_FBHZ1u6g
The official synopsis for the movie is as follows:
Where can you find the most powerful and prominent Super Teens in the galaxy? Super Hero High of course! Wonder Woman, Supergirl, Batgirl, Harley Quinn, Bumblebee, Poison Ivy and Katana band together to navigate the twists and turns of high school in DC Super Hero Girls: Hero of the Year. Produced by Warner Bros. Animation and DC Entertainment, the film will be distributed by Warner Bros. Home Entertainment (WBHE) this summer.

These young Super Heroes discover unique abilities, develop powers, and combat an abundance of overwhelming, exciting and awkward moments to master the fundamentals of being a hero – one day at a time! Together, these seven fearless Super Heroes prove that we all have the power to make the world a better place – even while school is in session!