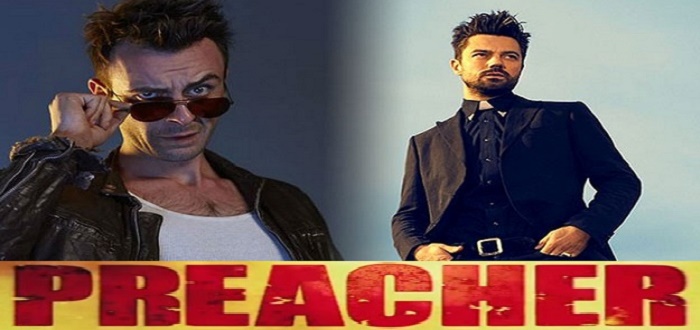 AMC Renews Preacher For Second Season
AMC officially renews Preacher for a second season, which really comes as no surprise. The second season will have an increased episode total from 10 to 13. The first season is currently at the half way point and has been rated as the second highest new cable show among young adults 18 – 49 and adults 25 – 54, according to Variety.
"'Preacher' is a special television program and we're eager to share with fans the rest of this wild first season and, now, an expanded second season," said Charlie Collier, president of AMC, SundanceTV and AMC Studios. "What Sam, Seth, Evan and the entire creative team have achieved in bringing Garth Ennis' graphic novel to the screen is extraordinary. We look forward to more time with these unforgettable characters be it in Heaven, Hell, Texas or beyond."
The Next Big Thing!
Preacher stars Dominic Cooper as Texas preacher, Jesse Custer,  in a small town who has suddenly found himself with powers. The preacher is able to command people to do his will. Within him is something referred to as 'Genesis' and this ability has attracted a lot of attention, specifically from two angels who want to retrieve this 'power'.
Produced by Evan Goldberg, Seth Rogen and Sam Catlin this supernatural drama appears to be AMC's next big show. The same network that gave us The Walking Dead. Joining Dominic Cooper for this thrill ride is: Joseph Gilgun as an Irish vampire named Cassidy; Ruth Negga as Tulip and badass ex-girlfriend of Jesse; and Tom Brooke and Anatol Yusef as the angels Fiore and DeBlanc.
Preacher airs on AMC on Sundays at 9pm.
https://www.youtube.com/watch?v=DGRHw65TLVo