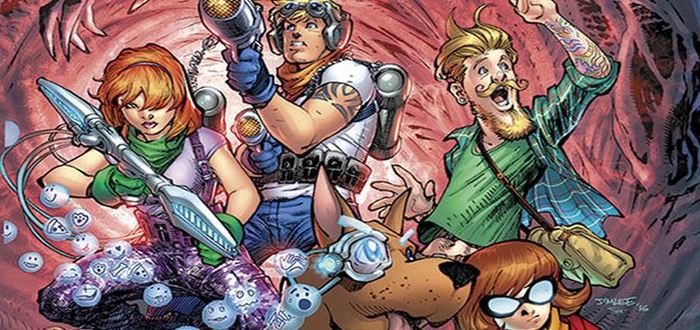 DC comics is taking Scooby Doo in a radical new direction with Keith Giffen, J.M. DeMatteis, and Howard Porter's Scooby Doo Apocalypse.
Having the Scooby Gang ditch the world of mystery in favour of surviving a bone fide apocalypse was never going to be an easy sell, and the writers have probably made the right move in opting for an entirely new origin story.
Featuring Fred as Daphne's cameraman for Mysterious Mysteries, Velma as some sort of mysterious scientific researcher and Shaggy as an animal handler in the same laboratory has opened up new and interesting places for the characters to go during the comic.
The new looks of the characters will likely prove divisive to some, as co-publisher Jim Lee says: "We knew it would be controversial… All these people saying, 'it's horrible, [Shaggy]'s a d-bag,' and I say, 'wait… you look like this guy!' It's an unusual look, but it's to show he's visually distinct from the others, and not part of the mainstream."
Shaggy's look is heavily hipster in origin, sporting tattoos on his forearms and frankly enviable facial hair. The gang overall has acquired a more cyberpunk look somewhat reminiscent of Ghostbusters. The first issue is slated for a May 25th release.