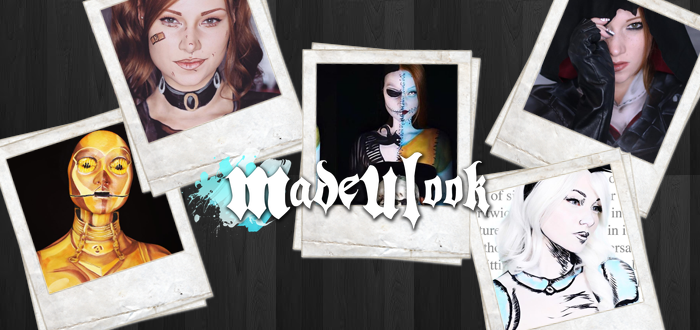 I have been a massive fan of Lex's work for some time now, a few years maybe, and she is honestly one of my most favourite make up artists on YouTube and Instagram. Her creativity and talent is hard to ignore, especially when you see how she creates her works of art on her YouTube videos, it's absolutely inspiring and quite easy to follow because not only does she show how she does it, but she talks you through each and every last step within her make up.
I've actually tried my hand at a few of her looks and have been very happy with the results, but only because of how easy and well Lex explains herself. The following are just a few snaps from her Instagram MadeYewLook, but you can find her videos on her YouTube MadeYewLook as well.
Storybook Alice in Wonderland
C3PO – Star Wars
Evie Frye – Assassin's Creed Syndicate
Gaige – Borderlands 2
Sally & Jack – Nightmare Before Christmas
It's actually quite intriguing and entertaining to watch Lex at work on her YouTube videos, not only just for her make up expertise, but also because of her personality as it is. She's funny, helpful, nice and a massive geek/nerd, just like all of us!
Lex also has her own website, MadeULook, where you can buy her own brand of make up brushes, her very own eyeliner, prints of her work and also apparel like t-shirts. Lex also raises money for diabetes charities, Lex herself has diabetes and often uses her work to inform people of the disease and raise awareness in searching for a cure. So do yourself a favour and check out Lex's YouTube and Instagram, you won't regret it!