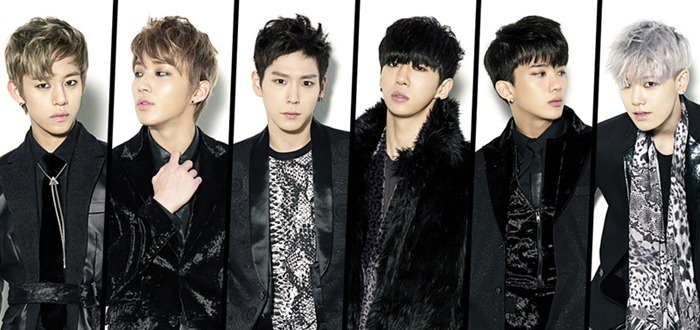 In honour of B.A.P's Live on Earth Tour being held in 6 European countries this May, we decided to dedicate this week's Kpop recommendations to them.
B.A.P came on to the Kpop scene in 2012 and blew us all away with their debut song 'Warrior'. They already had a fan base prior to this as they had starred in a fictional documentary called "Ta-Dah! It's B.A.P!" in which six alien beings (B.A.P) decide to become singers in order to dominate Earth, dealing with adapting to the life of a Kpop idol. The music video for 'Warrior' was lauded by various media outlets for its fierce imagery.
Previous to the release of 'Warrior', group leader Bang Yong Guk had already made his solo debut in two songs, "I Remember" featuring Yang Yoseob, and Song Jieun's 'Going Crazy'. 'Going Crazy' managed to peak at number one on the Gaon singles chart, even beating out Big Bang and IU. The lyrics are about a woman's one-sided love for a man.
Like most Kpop groups, B.A.P dabble in different concepts, including the sweet and playful style. There are a few videos like this, but our favourite is definitely 'Stop It'. For a long time, people debated the meaning of the video, but in the behind-the-scenes video, Bang Yong Guk explained that his character was supposed to die in a car accident, but ended up living as a playful devil, who chases around the girl he loves. It later turns out that the girl is actually an angel who puts him back in his place as a devil.
Since this article is in honour of B.A.P's live shows, we've decided to show off one of their powerful live performances too. Here is their fantastic performance of their song 'Young, Wild and Free' on MBC's Show! Music Core.
The last song on our list is one of their most recent songs, where they return to the cute concept. The funky upbeat pop song 'Feel So Good', from their fifth album Carnival has a super bright music video, with lots of fun dance moves.
If you didn't make it to any of the European shows, we hope these videos can help cheer you up! If you made it to the concerts, we are so jealous of you right now! Let us know in the comments how it was!