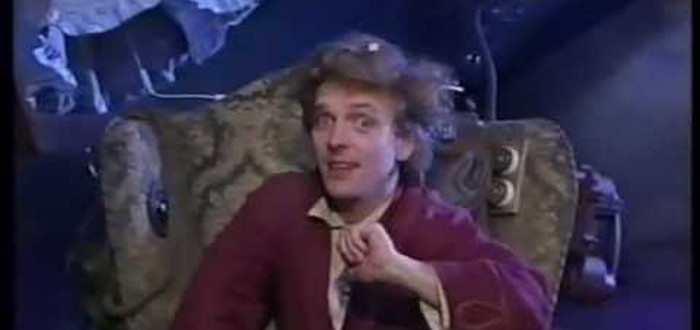 Grim Tales With Rik Mayall – Forgotten Childhood
I've been on a total Roald Dahl nostalgia trip ever since that The BFG trailer. George's Marvelous Medicine, the story of a perfectly normal boy who not quite inadvertently creates a magic potion and gives it unpleasant and cantankerous grandmother, is my favourite of them all. The only screen adaptation it has received was a five-part Jackanory for BBC TV narrated with hilarious vigour by the fantastic Rik Mayall. Watching this magnificent performance inspired me to write about it. Then I remembered something I had completely forgotten about. Something grotty, nasty and funny as hell. Much like Jackanory, it featured a single narrator telling an old story intercut with brief animation sequences. Only these stories were all by The Brothers Grimm, the animation was absolutely insane and each story was told by Mr. Mayall doing what he does best. This disgusting little show was called Grim Tales and it was a joy to rediscover.
Grim Tales was a show tailor made for Children's ITV. Throughout the '80s and '90s, CITV was the rebellious little brother of British children's entertainment; from the poop joke laden satire of Round the Bend to the sheer insanity of the brilliantly animated Trap Door. This lack of wholesomeness added a great deal of honesty to children's television. Yes, education and values are fundamental but it's also important to learn that sometimes, misbehaving can be fun. This can be traced back to the success of the delightfully demented programmes of Kenny Everett. While not strictly aimed at children, the violent slapstick, noisy fart gags and not so subtle snubs at authority spoke to these youngsters in a way no other show did. CITV picked up on this and followed in that trend for the next two decades. Though if you think about it, violence and unpleasantness have been a predominant feature in all forms of children's entertainment for centuries, going all the way back to the folk tales written by The Brothers Grimm.
Jacob and Wilheim Grimm are arguably the most famous children's author's whoever lived and are also pioneers in the study of folklore, which served as the foundation for their numerous stories. Many of these tales have imprinted themselves into the public consciousness and even our own vocabulary. Some of their most famous work like Rapunzel, Hansel and Gretel, Rumpelstiltskin and The Frog Prince.were translated nad retranslated throughout the centuries and have inevitably lost some of the less pleasing elements. This is another reason why Grim Tales is excellent. All these fables are gloriously retold in nauseating detail. The more distasteful moments from the classic texts are given just the right dose of black comedy to retain the nastiness without terrifying younger viewers. Of course, The Brothers Grimm were very prolific writers and not all of their fantasies are famous. Thankfully, Grim Tales adapted their lesser known works too with King Thrushbeard, The Gnome, Sweet Porridge and The Boots of Buffalo Leather all presented with equal enthusiasm and with some remarkably twisted animation sequences.
Each story is told with malicious joy by the late, great Rik Mayall. An integral part of the British alternative comedy movement, Mayall's deranged animated style made him a huge star on The Young Ones, Saturday Live and The Comic Strip Presents. Hilarious as those shows were, they were hardly suitable for children. Having Mayall present the show could be seen as a cheap way to bring in older viewers but Mayall was not so naive to think that kids did not sneakily stay up late to watch his naughty programmes. Although his hectic delivery seems ideally catered to kids TV, in truth he's an excellent story teller, relishing the nastiness with glee. His boundless energy and manic charisma are perfect for getting younger viewers interested in the less palatable side of classic children's literature. Nobody could have presented the vicious, non sugar coated versions of these stories to children other than Rik Mayall. While it's not his most his most famous work Grim Tales is still a shining example of his much overlooked versatility and a reminder of how a talent such as his will never be forgotten.
This show is remarkably difficult to find but the passing of Rik Mayall in 2014 has led to a renewed interest in his more obscure work such as Kevin Turvey and Filthy Rich and Catflap. Hopefully, Grim Tales will be unearthed by a distributor and given the full remastering and rerelease it so fully deserves.