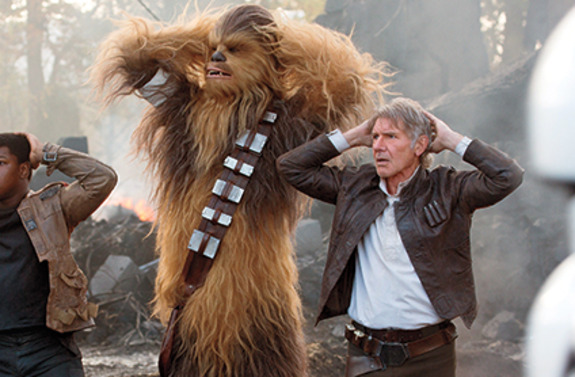 Upcoming Han Solo Origin Movie Will Include Chewbacca
Disney Chairman Bob Iger has confirmed that Chewbacca will play a central role in the upcoming Han Solo origin film.
Coming from to The Wrap, Iger made the confirmation during a speech at the Deutche Bank 2016 Media, Internet and Telecom Conference.
We are delighted with this news as it wouldn't be a Han Solo film without Chewie by his side. It will bring something special to the fans who have wondered, for so long, how they became so close and the adventures they have gone through!
[Spoiler Alert For Rest Of Post!]
Speaking of Chewbacca – many Star Wars fans were confused as to why Leia chose to comfort Rey instead of Chewie during the closing scenes of The Force Awakens. Director J.J. Abrams has explained why he made that choice
"That was probably one of the mistakes I made in that," Abrams explained to /Film. "My thinking at the time was that Chewbacca, despite the pain he was feeling, was focused on trying to save Finn and getting him taken care of. So I tried to have Chewbacca go off with him and focus on Rey, and then have Rey find Leia and Leia find Rey. The idea being that both of them being strong with the Force and never having met, would know about each other — that Leia would have been told about her beyond what we saw onscreen and Rey of course would have learned about Leia. And that reunion would be a meeting and a reunion all in one, and a sort of commiseration of their mutual loss."
"Had Chewbacca not been where he was, you probably wouldn't have thought of it. But because he was right there, passed by Leia, it felt almost like a slight, which was definitely not the intention."
Star Wars: The Force Awakens hits DVD and Blu-Ray April 5, while the Han Solo film is scheduled to hit cinemas in May 2018.