ScreamVention Review
Over the weekend I had the chance to attend Ireland's first horror dedicated convention, ScreamVention! Being a horror fan, this was something I'd been looking forward to for quite some time since I first heard about it. I was buzzing, I was screaming, I was bouncing around with excitement, and that was only when I heard the name!
The guest line up for ScreamVention was honestly like a dream come true (or nightmare). Three Cenobites (Barbie Wilde, Nicholas Vince, Simon Bamford), two Jason Voorhees (Ari Lehman, Kane Hodder), two scream queens (Jessica Cameron, Heather Dorf), a little boy once terrorized by a murderous doll (Alex Vincent), and one Candyman (Tony Todd). Believe me when I say that for a convention running for the first time, it had a spectacular line up!
I didn't get to attend the convention on Saturday but I was hot foot there on the Sunday as I wanted to experience a proper horror convention practically on my own doorstep. The convention boasted horror screenings, horror talks from the guests, a magician's show, cosplay competitions and even burlesque! Did the convention succeed in my own opinion?
Short answer? Yes!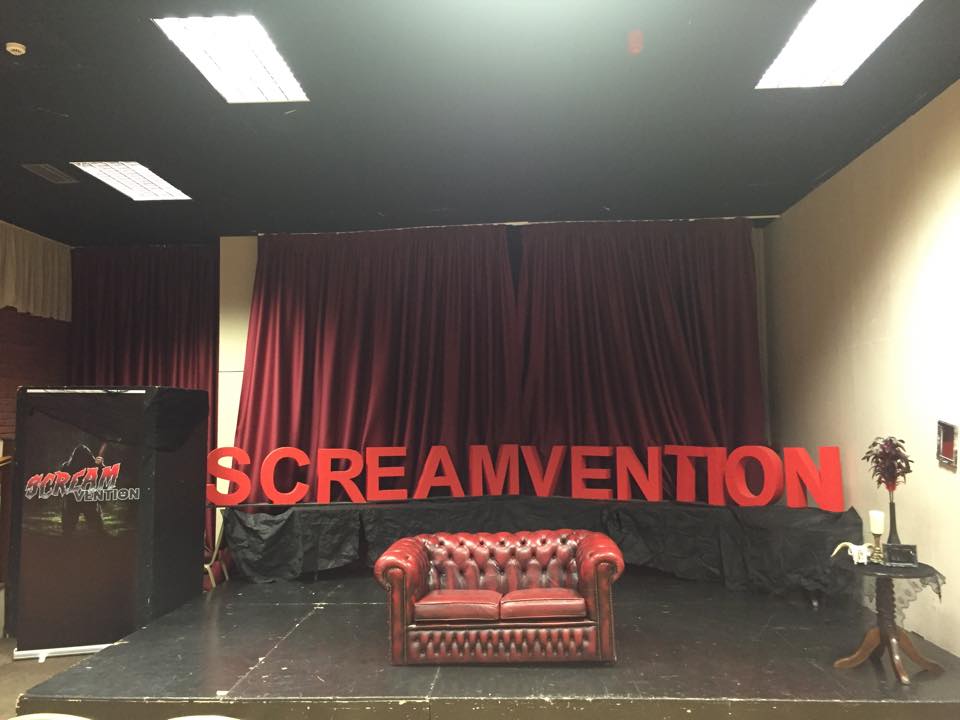 Long answer? There are a few things to improve upon in order to make ScreamVention bigger and better for next year!
Firstly, the venue itself. Being out in the Red Cow, it was a little out-of-the-way for people, and having the entire convention based out in one large room was a little too open for my own tastes. I will admit though that it was nice for the size and well laid out within the large room with the stage at one end and the guests at the other with plenty of room to queue for autographs and pictures.
A convention set within the city centre itself may work better for next year, even within another hotel or somewhere that other con-goers are more familiar with. Secondly, the over all marketing for the event could have been bigger as well, with one of the guests, Tony Todd even suggesting a mini zombie walk or something of the like. My last teeny tiny gripe was the cosplay announcer/host for the cosplay contest on Sunday. Unfortunately, I found him to be a little bit unprofessional. Now before you get angry and say that cosplay isn't serious, it really isn't and it shouldn't be, but to have the host put on the Attack on Titan theme song and literally jump around the stage while the cosplay judges deliberated. To give constructive criticism, he could have engaged the audience with talk about cosplay, or talk about horror cosplay in general instead of putting on a 'performance'.
Now onto the amazing stuff, which honestly for me was an overall experience of the convention all wrapped up within their guest lineup.
The entire convention just seemed unbelievably friendly and welcoming as everyone I came in contact with was so warm and lovely, willing to help out and point you in the right direction whenever you needed just that. The convention itself had a film competition in which you could submit your films before the convention, with a winner being chosen at the weekend, something which I've heard was extremely well received.
The guests, oh the guests, what a draw that was! Have I mentioned the guests yet?
Each guest was so happy to be in Ireland, each one chatting to people whenever they came to their tables, with most waving their photo and auto fees just because they were having such a nice time and a great chat with everyone. Every guest had fantastic things to say about the convention organisers and how they would love to come back; Ari Lehman for example has spoken about coming back next year with his band, 1st Jason!
I spent about four or five hours at the convention on Sunday, taking part in the cosplay competition, watching the talks that I had time to watch, buying my very own Chucky doll, wandering around and having a look at the other stalls (more stalls next year would be another major plus!), and just chatting to the guests. It was honestly just such a lovely environment to be in, with no pressure, no major queues or elitism in any way, it just was such a relaxed atmosphere and you could tell just from talking to the guests that it's a convention that will and should be back next year!
There has to be massive congratulations said to Lisa O'Brien and the ScreamVention organisers who have outdone themselves with this brand new convention, and who brought horror icons to Ireland for people like myself.
All in all, for a first time convention, ScreamVention passed the test and was an absolute and utter success. I'll definitely be there next year! Alive and kicking… mostly!