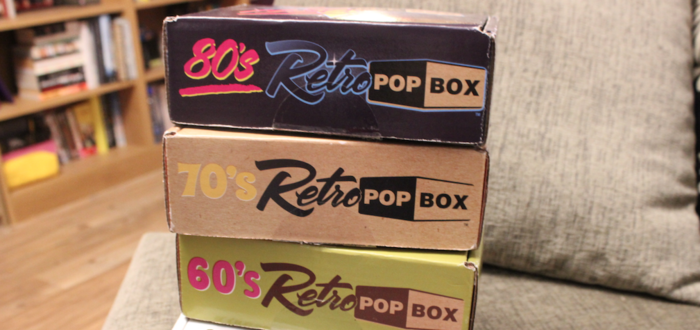 Retro Pop Box Review
We're a big fan of subscription boxes here at The Arcade (some of us have crossed the realm from 'fan' to 'obsessed' but I digress) and we recently received a box called Retro Pop Box. As to what it is and what it offers, the clue is in the name. It's a box filled with 4 – 7 items relating to retro, pop culture stuff from a certain era. In this case, the 1980s.
You can choose whatever era you want, from the 1960s to the 1990s. We received a sample box when the company first started so we could see what kind of things would be offered in the official monthly boxes. We thought the idea was fun and original but obviously, with a sample box being so random, there was room for improvement.
We've since received a 1960s box and a 1970s box as well as the1980s box so that we can see the full spectrum of what the company has to offer and give our verdict.
The Retro Pop Box was set up to bring people a time capsule to their door full of favourites from their youth. The RPB team curates a selection of products highlighting toys, games, music, candy and events from the decade you've chosen. The items in the box are purported to be worth $45 and, at a $20 price tag + shipping, it seems like a pretty good deal.
Although I'm a 90s child myself, there was no option for that decade when we first signed up for the trial and we're delighted that it's been added. As for the quality of products in the box overall, it varies greatly between each decade.
1960s box
This box featured an exclusive t-shirt paying homage to WRNR and, as I'm wearing the t-shirt as I write this review, it's become one of my favourite shirts because of its unique design and 60s shades. As well as that, there was a Bendy Batman included which resulted in a lot of procrastination for me. Let's just say it's easy to get distracted when all you want to do is manoeuvre Batman into compromising positions beside your family members and then take pictures. Hours of fun.
If you're planning on exploring the final frontier (or if you're just heading to Ibiza, whatevs), then you'd be nothing but proud to pop this awesome Star Trek The Original Series luggage tag on. It's very well made and you certainly won't get your luggage mistaken for someone else's. Unless they've also bought the 1960s RPB, that is.
Mr Sketch scented markers were also included and, although I don't recognise the brand, the scents of apple and blueberry certainly take me back to primary school. Nothing was better than scented markers or gel pens when you were eleven, and if you had both? You were a king in that classroom.
A symbol of the swinging 60s if ever there was one, the 'Have a nice day!' iron patch is the last item in the box and it's a cute little reminder that people used to be a whole lot more optimistic than they are now. There were also one or two badges at the bottom of the box, but they're nothing special. Overall, this is a really great box and I very much enjoyed going through the contents. I'm not a 60s child, far from it, and if a 90s kid like me can enjoy this then anyone can. Two hearty thumbs up!
1970s box 
Right off the bat I'm going to admit that I didn't enjoy this box even nearly as much as the 1960s one, which I admit is odd because it's an era closer to the one I was born in. I think the products in this one just weren't as well thought out and that was a let down.
Again, there was a t-shirt which is very good seeing as the box costs just $20. It's another exclusive design and features Miser vs Miser with 'Knock his frost off!' written below the design. Now I'm not familiar with either Miser or what the phrase means, but a quick Google search tells me that the two characters are Snow Miser and Heat Miser and they both star in a Christmas special called The Year Without a Santa Claus. 
The t-shirt is a perfect example of the cross-cultural divide that could lead to many people not getting the references in these boxes. This is a show that was popular in America but obviously an Irish person like me wouldn't be familiar with it. There are certain items that would have crossed the divide, as is the nature of pop culture, and especially due to America's influence, but don't be surprised if you come across an item that has you stumped.
Next in the box is a packet of DC villains magnets designed in the style of the 70s DC comics. The magents are good quality and this is a nice item. Also included is an 'Ode to Role Play' paper door hanger (which was bent unfortunately) which features a clever RP quip on it. It also comes with a d20 with a note explaining the origins of Role Play.
The next item is a very flimsy disco ball keychain with a panel saying 'Boogle Oggle Oggle!' on it, which I believe is a reference to Saturday Night Fever. I get why they included the disco ball because obviously it's a symbol of the 70s but it's a pity they couldn't find a higher quality item. This one, unfortunately, was Christmas cracker quality.
Finally there was a pack of 'Kitsch on the Rocks' cocktail coasters featuring different era-appropriate cocktails like Sex on the Beach.
Overall the box wasn't really my cup of tea. I didn't understand the t-shirt, although for someone who did I'm sure it was a real treat because the box arrived in December just on time for Christmas and the quality of the shirt is actually very good. I liked the magnets but I could take or leave the other items. It's all a matter of preference and I've found that it's touch-and-go when it comes to a lot of subscription boxes.
1980s box 
This box's t-shirt was another exclusive design (which is a nice touch, it's great that they can offer a design that can't be found anywhere else) featuring Rocky and Clubber Lang from Rocky III. The text says 'I predict PAIN' with Rocky III below it. It also seems to be of quite high quality so we got off to a good start.
Next there was the 'fun fact item' as it has come to be called. It's a 'The Love Boat' Teeny Tin which is a mini lunch box designed to look like the ones you carried as a kid (though I myself carried a regular colouruless lunch box when I was in school, though perhaps my parents owned something like this). It's a cute little item for you to store very small items. If you're into knick-knacks then you'll like this item.
Next there was a container of Battlestar Galactica cylon coasters. As a fan of the show, I liked this item but I was surprised by the material used to make them; they were very plastic feeling with a cork base, but they'd certainly keep a hot beverage from ringing a nice wooden table. Though I doubt the design would stay on very long so maybe these are coasters that should be exclusively used by cold drinks.
As we got a packet of DC villains in the 70s box, this time there's a box of DC heroes (The Justice League) in a similar style with the same good quality magnet. You could probably arrange the heroes and villains into a fun little battle on your fridge.
Lastly there's a joystick sticker which says 'Back to basics' on it. There was also a David Bowie sticker included too, which I presume was an afterthought when his death was announced as it's not included on the card, but it was a very nice touch all the same.
Overall the Retro Pop Box is fun. It certainly does include bits and pieces from whatever era you fancy with a fun fact item in each so you can get to know the decade a bit more. I enjoyed the 1960s box the most out of the three we received, though I imagine the 1990s one would probably be the most appealing.
As I mentioned above, it's very important to bear in mind that these boxes come from America. Due to the nature of the items and the fact they're mostly based in American pop culture, you may not understand the references. I enjoyed them regardless and the price is reasonable for what you get. I think these boxes are a really good idea and that they're certainly worth a try as I did feel a bit like a kid again when I was playing with my Bendy Batman (which sits proudly on my bookshelf).
Have you tried Retro Pop Box before? Do you agree with me? Let me know what you thought of the boxes in the comments below!