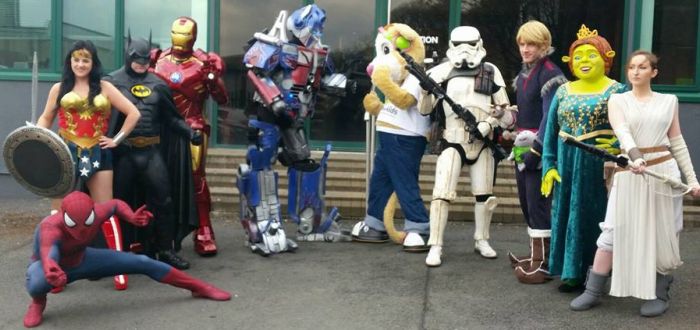 Real Superheroes: Cosplaying For Charity
We see Superheroes all the time on the television and on the silver screen, we read about them in comic books and we play as them in video games but sometimes in life, we're given the chance to be seen as real superheroes by the ones who need it most. I'm talking about cosplaying for a great cause, cosplaying for charity, cosplaying for children who need the support, love and generosity of those who don the capes and masks.
Speaking from experience, cosplaying for charity and cosplaying for little kids who are either sick in hospital or fighting a disease which can drastically shorten their lives, or worse even steal it, can be in a word, rewarding. I've done hospital visits in the past as Elsa from Frozen and there is nothing better than the feeling you get when you see a child in their hospital room smiling back at you, their eyes lighting up because a character they love has come to visit them and give them their time. Being able to raise money for A Chance For Alice, and Hope for Zoe were two of the highlights for me because I've been able to see those two little girls fight their way through cancer and they are two of the strongest little kids I've ever met in my life. I've spoken to four different people who all cosplay for charity and asked them a few questions each on their experiences throughout their visits and fundraising.
How did you get into doing charity work as Iron Man and Prime?
Andy: Bought the suit and charities came to me, that's really it, I didn't go looking for it, it just happened once the suit came along.
Neil: Got into charity work like with Andy's help, doing a lot of things, like getting the costume and everything. We were approached by the likes of, I think the first one we did was wee Ollie down in Portadown, we all went down there and done a thing for him down in his Granny's house. It was really great to see the wee fella, and see how well he's doing, considering how sick the young fella actually is, he didn't actually look as sick as he actually really is. It was nice to do something for him, and then we've done work for the likes of the Royal Victoria Hospital, me and Andy have gone down there and done work with them.
What's the best thing about working with charities as characters?
A: You get to see what they do with the money you raise on the day, like with the one million pound thing we're raising for the City Hospital, we get to see that part of the wing being opened for the kids.
What has been your best moment working with the kids from the charities?
A: Presenting Child of the Year at the Ulster Hall for the NI for Kids Awards, I presented the gift on stage to the kid and their parents on stage. Amazing story, the wee man is still going strong, diagnosed with real bad cancer, given two weeks to live sort of thing, and he's still pulling through and the Dad is a single Dad and all that, it's just an amazing story. Yeah, that was my proudest moment.

Tellus a little bit about Dempsey's fundraiser and why you chose to do it with character actors!
Well the Dempsey fundraiser was an idea that came about after Lynn (Dempsey's mum) had mentioned to me that they'd wanted to take Dempsey to Euro Disney…..but her oncologist wouldn't allow her go travel. Therefore the only option was to bring a Disney/Superhero themed dinner with the stars to her. Its going to be a 2 hour lunch/dinner with characters throughout entertaining the children. Characters from Captain America to Optimus Prime, Rapunzel to Cinderella…there'll be something for everyone.
How did you get involved with charity work as a character?
I've always been into dressing up, and as I have kids of my own it was always any excuse for a dress up in my house….be it them or me. It all took off after I dressed up to take the girls to Disney on ice in the Odyssey…..we went as Elsa, Anna and Kristoff. The crowd went mad after the show getting pictures and coming over asking questions as if we were the real characters. It kind of went viral on Facebook, and after that I got asked by a few people if I would help at a few charity events, which I was and still am delighted to do.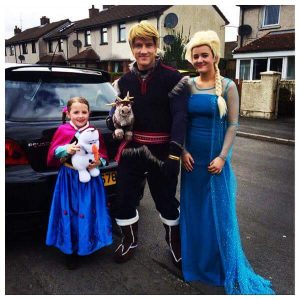 What's been your best moment?
Best moment, well there's quite a few….obviously the first time I met Dempsey, she was just in awe that Kristoff and seen had come to her party. I also did a charity event in the Royal Victoria Hospital for sick children around Christmas time with Superheroes Belfast, and the smiles it brings to the kids faces just can not be put into words. Where it all kicked off with the Frozen on ice Disney dress up would be up there too, just one of them father/daughter moments that we'll always remember. Then there was the time I dressed up as a clown to go to my youngest daughters birthday, making jokes, acting the fool and balloon modelling…..she'd no idea it was me until her mum told her an hour later that it was 'her daddy', the look on her face was priceless. All special moments that are now memories to treasure!
LEMON LALI COSPLAY
How did you get into doing charity work as characters?
I started helping out as crew for the Emerald Garrison a few years ago, I'd be the one making sure the stormtroopers knew where they were going! Seeing the looks on the kids' faces when they met their heroes was amazing and I knew I would have to get in to my own costume soon! Since then I've dressed up and helped fundraise, a superhero or two is great to publicise an event! I've also visited sick children as different characters to help try brighten up their day.
What's the best thing about working with charities as a character?
I think the best thing about being a character when you're working with kids is that you immediately have something to talk about. They feel they already know you, and you can make them feel so special at the thought of being visited by their favourite character. It's about showing kids how important they are and that they're not alone fighting illness. We superheroes have our eye on them too!
What has been your best moment working with the kids from the charities/hospitals?
The thing that makes me smile most about working with these kids is that I spent a lot of time in hospital as a child and I know what a visit from my favourite character would have done for me. I can see that wide-eyed look on their face when they realise Catwoman knows their name, that this person came to visit them and that they're special. Positivity is a huge part of overcoming illness, not just surviving it but beating it, and anything someone can do to even briefly bring something positive into their scary world of tests and needles and confinement…that's something we should all try our best to do!
The people I've spoken to about this are all superheroes in my eyes, and in the eyes of the children whose days they brighten with their appearances. If showing up as a child's favourite character can make them smile and make them feel just a little bit better, then I applaud each and every person who does it in cosplay and intends to do it whenever they're needed.