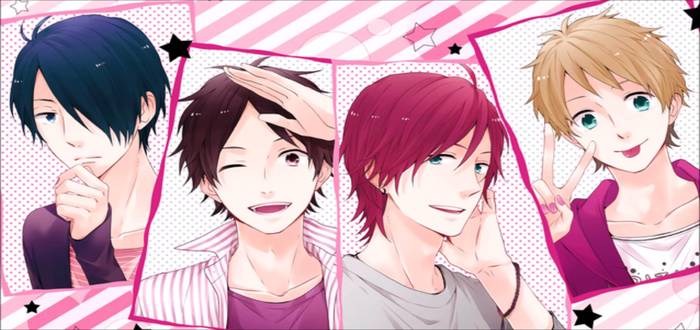 Professional Wizards Living Rainbow Days – Otaku Digest
Welcome one and all to the latest instalment of Otaku Digest, needless to say we are at the end of the winter season with most anime fans being well and truly invested in their chosen series. On the other side of things we here at Otaku Digest are breaking down what series we have liked, and playing the end season catch up game.
Thankfully this season has been very fruitful in terms of series that gave a great first impression on the first episode which is what we look for and love here on Otaku Digest. This week we have some of the anime short series which stood out to us from the winter season with this week's entries being Kano Danshi, Mahou ga Oshigoto Desu and Nijiiro Days.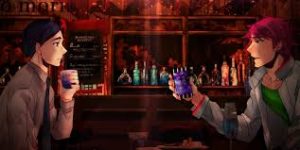 Kano Danshi, Mahou ga Oshigoto Desu
First up for this week is the fantasy, shounen ai and magic anime Kano Danshi, Mahou ga Oshigoto Desu or This Boy is a Professional Wizard which originally aired on February 5 and is related to other Kano Danshi short series that have involved aliens and even mermen. In this instalment we meet Chiharu who is a wizard and he is in charge of the counter measure division of the magic department. All his days are filled with hectic workloads until one day he meets and hits it off with a young candid man called Toyohi while having a drink at his favourite bar. Following an abrupt confession from Toyohi , Chiharu is taken aback but soon falls into stride with Toyohi as he begins spending more and more time with him. That Is until there is a mishap at work for Chiharu and he makes the decision to push Toyohi away and devote himself to his work.
I think everyone can already guess what I am going to kick this off by saying and that is I personally hate these type of anime, they are essentially a borderline yaoi. It brings me back to anime from seasons ago like pillow boys but nowhere near as severely uncomfortable that series made me while I watched. The opening half to this episode I am not going to lie was uncomfortable to watch in the same way that seeing a couple on their first date is uncomfortable and you nearly feel as awkward as they do.
The usual has happened in this anime as with others of the like which is the characters are as derived and bland as dishwater. There is the clear stereotypes set in place with Chiharu being the crazed workaholic who would nearly be a shut in except he lives for his job while Toyohi is the clear extrovert with no ties and lives life on a whim. One to bring the excitement while the other grounds the relationship, so basically every over used stereotype for a match made in theoretical heaven.
Despite the majorly bland characters and derived storyline there is something about this episode that I liked which is the art style, it is model like a dating simulator game rather than the usual anime or manga art style which was refreshing but does not save this anime.
https://youtu.be/c88p-60Da1o
Will I Continue To Watch: No, interesting style but bland otherwise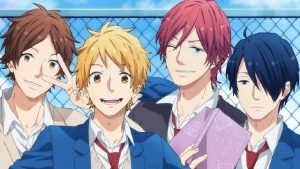 Nijiiro Days
Next we have Nijiiro Days or Rainbow Days a romance, slice of life, shoujo, school and comedy anime which first aired on January 10 and is adapted from the manga of the same name. This anime we are introduced to a group of male high school students who are very close friends: Tomoya, Keiichi, Natsuki and Tsuyoshi. They spend the majority of their high school life not being involved in any sort of club or club activities while they also rush through all their studies and work so they are spend their free time together and having fun. A reoccurring theme to their days is, love. Natsuki in particular in a bit of a pickle as he has a one-sided crush on a girl from another class called Anna but no matter what he does his friends continue to but in on any chance their relationship may have. What a nightmare for him!
As most people have guessed this has not been the kindest week anime wise for me what with it being two anime episode from my most hated genres with this being from the more hated of the two which is slice of life. I am well aware there are many decent and even fantastic slice of life anime out there and thankfully I have had some recommended to me which I will watch but as for newer releases the selections have been slim.
I do appreciate these slice of life anime shorts however as since they are shorter with more having to be squeezed in makes it seem like they are explaining things better but also getting to the point much quicker than the long drawn out regular anime episode. Saying that I have the same issue with this anime as I do with other slice of life anime series that have come before it, it is boring. That is not to say others might find this series interesting but for me it is just boring,, the entire premise to this episode was a high school boy trying to impress his crush, thanks anime but I lived seeing this and do not need an anime showing a highly colourful version of it. Not only this but once again we have a very different anime from the first but the exact same issue where the characters are all stereotypes of the typical high school characters with nothing extraordinary standing out for any of them, they may seem to have specific traits but just wind up coming off as one in the same.
Will I Continue To Watch: No, this anime needs some spice to make it interesting