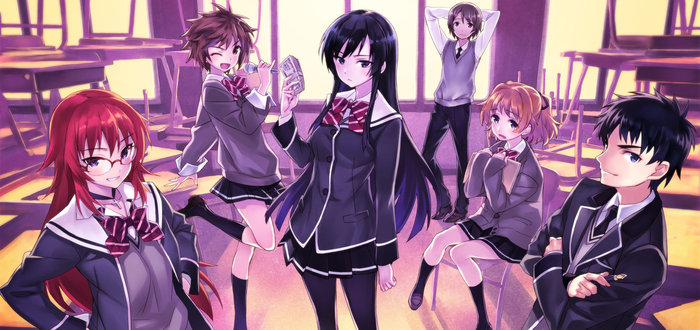 Disciples Writing Bishoujo Games – Otaku Digest
Welcome to the latest instalment of Otaku Digest and we are well and truly coming to the bottom of the barrel for the winter anime season. This season has been a nice change after the past couple of seasons in terms of anime content. There has been a trend the past few seasons of just lack lustre series after series but thankfully there has actually been some series this season that seem to be worth my time.
Saying that, this week we have our last two full length episodes with some shorts to follow: Shoujo-tachi wa Kouya wo Mezasu and Reikenzan: Hoshikuzu-tachi no Utage.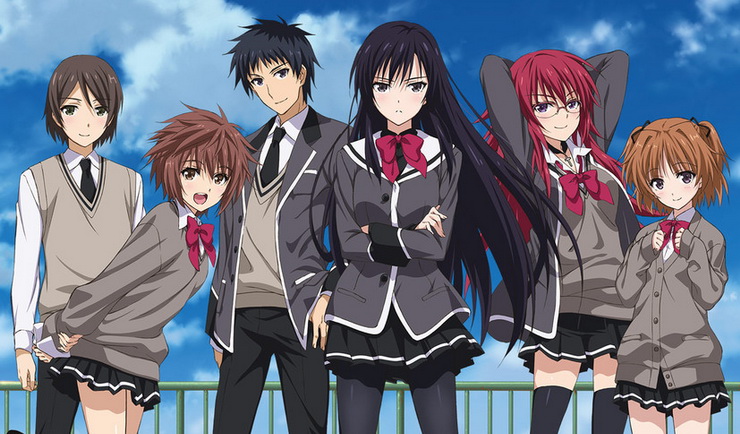 Shoujo-tachi wa Kouya wo Mezasu
First we have the school anime Shoujo-tachi wa Kouya wo Mezasu or Girls Beyond the Youth that first aired on January 7. It will have an OVA that will air later in the season. In this anime we meet Buntarou and, like many students his age, he has some major ambitions. He wants to make something of himself, he wants to be something but he has no idea what or who he wants to become. It is not until one day a girl in his class called Sayuki makes the announcement that she is working on a bishoujo game. Sayuki approaches Buntarou about writing for her game as he had previously written a good script for the drama club. There is only one issue with this, Buntarou knows nothing about bishoujo games or how to write for one.
Let us kick off by saying, yes, this anime although not advertised as is a complete slice of life anime, it screams it from the very first scene but as with all these kind of titles I always give them the benefit of the doubt as I have actually managed to find some slice of life anime that I have liked.
Well anime, you hooked me with that opening theme, it was everything an anime needs from an opening theme. It is super catchy with a beat that is easily a stand-alone get up and dance kind of song while the opening theme sequence is free of spoilers but is dedicated to its characters, if that opening theme's energy continues through the episode is it set to be amazing.
As far as characters go I can see there will be development for the surplus of characters in this episode but there were maybe a few too many shoved into the first episode. Could be the case that those characters will get more development later but the main protagonist is actually pretty interesting and quite relatable, he is so driven to be something but has no idea what and although feels he has no special talents surrounds himself in people who obviously do. But yet he remains helpful to everyone. The actually story is done very slowly with it coming off as more of a rom com style of anime but you can really see where they could take the story as the anime develops.
Will I Continue to Watch: You know what? Yes, why not give it a chance.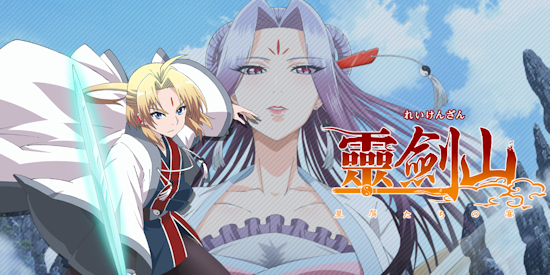 Reikenzan: Hoshikuzu-tachi no Utage
Next we have the anime Reikenzan: Hoshikuzu-tachi no Utage which is a comedy, magic and fantasy anime that originally aired on January 9 and is actually based off a Chinese web novel called Cong Qian You Ling Jian Shan or Once Upon a Time There Was a Spirit-Sword Mountain. This anime takes us to the world of the spirit sword clan where since its founding in the year 4233 of the Nine Provinces calendar has turned out some of the finest marital arts talent the land has seen. Fast forward to two thousand years later and the clan still adheres to the principles of spiritual development and peace are looking to find new disciples to the clan through holding a large tournament. One of the participants is Wang Lu a twelve year old boy who possess a special soul that is only seen once every thousand years.
Straight off the bat this anime set the tone for what is to come, there is beautiful animation with a fantasy theme of characters and prophetic narrative and in comes that epic bouts of comic relief where everything breaks, including the animation which is always a welcome aspect especially for anime that could get stuffy very quickly when dealing with these kinds of subject matters.
The opening theme like in the last anime suited the anime perfectly, being a more narrative based anime with more serious but light hearted subject matter calls for a different type of opening theme than a slice of life anime would, and this opening was more ballad than dance party suiting the anime perfectly.
A stark contrast to the last protagonist this one just comes off as annoying, arrogant and like a spoiled brat, it is obvious he will get more and more development as the anime progresses but for now he is just very irritating while the story moves very slowly without any real action or comedic relief bar what we had at the beginning of the episode.
https://youtu.be/cpLHnjt4710
Will I Continue to Watch: I am sure it will develop later but on that first episode, no.