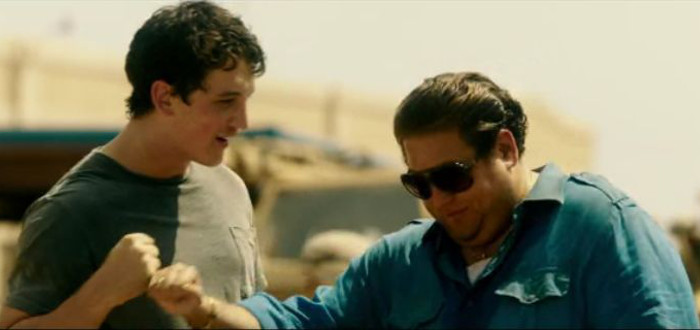 Jonah Hill And Miles Teller Run Some Guns In First War Dogs Trailer
The first trailer for Todd Phillips' War Dogs has been released, featuring Jonah Hill and Miles Teller as a pair of slightly hapless gunrunners.
Take a look:
Based on a Rolling Stone article, War Dogs is about a corner of the arms trade in which people deal weapons without ever having to deal with active battle itself. In this instance, the agents in question are a pair of 20-somethings who are just looking for a steady stream of money to party with. As you can tell from the trailer, they get a little bit more than what they bargained for.
Some obvious liberties have been taken with the original story, but that's neither surprising nor necessarily to the film's detriment. Teller and Hill have some obvious chemistry in the trailer and the setup alone is worthy of a comedy film. Only question is whether or not Todd Phillips can make an improvement on the swift downturn the Hangover trilogy took – so far, so good.
War Dogs is due in cinemas August.