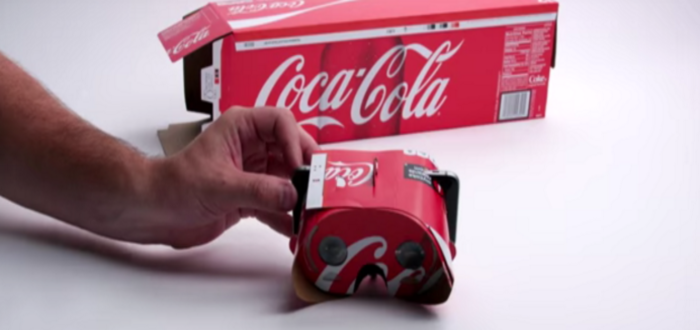 You Can Make VR Goggles With A Coca-Cola Box
Coca-Cola is joining the virtual reality world with the help of cardboard VR Goggles.
Coca-Cola has adapted the cardboard packaging of 12 packs of the lovely beverage so that it can be folded into VR goggles that hold your smart phone. The company has released this video to show you how to achieve this with the help of something sharp to cut the cardboard and some tape.
Large non-media companies of late have started to notice the popularity of VR and appear to be working this to their advantage and build on their brand. McDonald's are one of the front-runners, having created VR goggles which also includes a game app which, as of now, has not been done by other non-media companies.
With these essentially free smartphone goggles, Coca-Cola will be able to reach a market such as smartphones that is currently not loaded with advertising. It could also potentially sell more products by the perception that you are getting 12 cans of the beverage along with the VR goggles as opposed to Google Cardboard which costs around $15.
If people are looking to just try out VR goggles before committing to a much more expensive, comfortable and sturdy model, these free versions are definitely a good place to start.