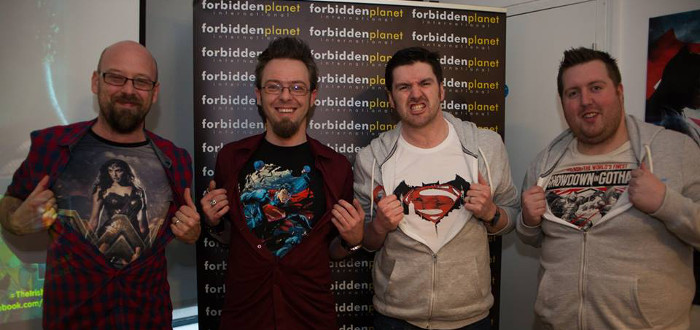 Batman V Superman: Panel Of Justice
As part of the promotion for Batman V Superman: Dawn of Justice, Warner Bros. and Forbidden Planet Dublin held a special event to discuss the cinematic histories of the titular icons. Titled 'Panel of Justice', the panel was an hour and a half long discussion held in Filmbase in Dublin. Podcasts The Irish Pubcast (featuring our own Wayne Talbot) and the Storybreakers each took a side – Pubcast for Superman, Storybreakers for Batman – and debated each hero's long onscreen history.
Naturally, this divulged into a general conversation among attendees and panelists about what we like, dislike and find a touch ridiculous about DC's heroes, uniting in a fervent love over Wonder Woman finally making her cinematic debut. Of note in the recording, there are several less-talked about books brought up that are well worth seeking out if you haven't, including Kingdom Come and Batman: Year Two.
With any luck, events such as this will only get more regular and longer in the months between larger conventions such as MCM Ireland and Dublin Comic Con. The turnout was almost full, despite only a short time for promotion. Best of all, the entire thing was spoiler-free, which, given the divisive film Batman v Superman has turned out to be, was a welcome reminder that these characters are more than one movie made by one set of film-makers and what they mean can never be defined by that one thing (something, on a personal note, we should all be very glad of).
You can hear the entire recording here, and check out some images of the event here – I, happily, dodged the camera at every opportunity!