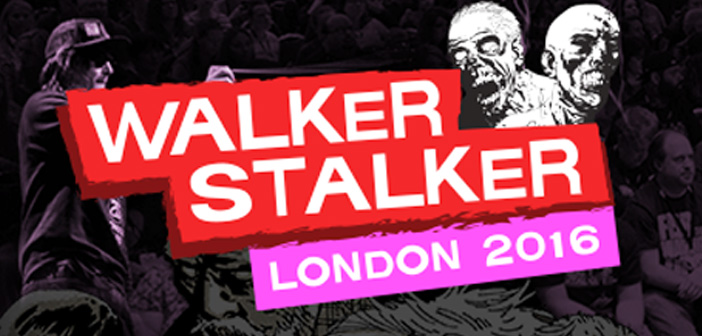 Walker Stalker Con London Review
1313Walker Stalker Con, the US-based convention event inspired by comic and TV series, The Walking Dead shuffled its way to the UK. Walker Stalker Con London took place in the Olympia London and I dragged my carcass over the pond for it last weekend.
The guest list for the weekend was peppered with some of the biggest names from the series including Norman Reedus, Melissa McBride, Andrew Lincoln, Chandler Riggs, Jon Bernthal and Mike Cuditz. That's only scratching the surface and if you prefer the comics to the TV show then series artist, Charlie Adler being in attendance would have satisfied even the more hardcore fans. If meeting the actors from the show wasn't high on your list of priorities then there was little else really to choose from – the focus here was the guests, the autographs and the photo ops.
With the popularity of the show, the numbers in attendance on both days of the event were in the thousands. The knock on effect to that meant long queues and waits to meet guests. Depending on the type of ticket you held that could have meant anywhere from ten minutes to five hours in line, something you would think fans would've been up in arms about but not here!
Don't get me wrong, fans grumbled when general admission lines moves faster and at peak times staff struggled to keep queues in an orderly fashion. There was even disappointment, shuffling slowly in line for hours only to be turned away while guests were whisked away for photo ops or panels, left many with heads (and limbs) hanging pained and exasperated. It wasn't enough to turn the dedicated off though and they don't come more dedicated than The Walking Dead fans apparently, a trait I was surprised to find buried but alive in myself having missed my opportunity to meet Melissa McBride at her first signing!
No I returned, as did a sea of familiar faces I'd come to recognise from our patient pack earlier in the morning. Waiting for McBride to return to her stall, I got talking to fans who had just queued a good four hours to meet Reedus and were now queuing to meet McBride devouring snacks and guzzling luke warm coffees. Some had missed their scheduled photo ops, others, more experienced fans, dropped tips about aiming for later ops at future events, having never experienced a phenomenon quite like Walker Stalker Con, I took plenty of mental notes, all the while being quietly infected with their enthusiasm. I'd been bitten by Walker Stalker Con and as I stood eagerly and awkwardly at the top of McBride's queue I hopped from foot to foot reciting what I was going to say to her.
I managed to say none of it, or rather I said plenty of it, it just wasn't comprehensible to anyone who couldn't decipher my high-pitched, rapid and gleeful screeches. Yeah, I was a goner!
Autographs in tow, wallet somewhat depleted I reunited with fellow Arcade staffer, Mary McFadden who'd joined me on the trip. I was relieved to diagnose that she too had experienced the same symptoms after meeting Mr. Reedus.
It's safe to save that the majority of people at the event had been exposed to the contagion. Walker Stalker Con is pushed as a fan event and it's not hard to see why! The fans rule the event! Cosplayers swarmed the floor of the Olympia, some came as their favourite characters, (special mention to the crew of the Dead Inside cosplay group!) while others came as walkers of all shapes, sizes and state of decay.
Both days of the events were dotted with a timetable for panels and a large space towards the rear of the venue was dedicated to these talks where guests sat to talk all things The Walking Dead. Spotted around this area a number of stalls for merchants ranging from handmade pieces to merchandise, special effects makeup and art prints filled space but one sweep of this section and you'd seen it all. The highlight from the floor was the ' Zombie Apocalypse' maze that entrants ran while equipped with weapons to take the zombies roaming the corridors out with. If Walker Stalker Con returns to London next year or even later this year, then I'd hope they bring a little more variety and a little more to do for fans who opted out of queuing.
That said overall, I had a fantastic experience at the show despite making a bumbling mess of myself at a signing. A little more to do and to see and Walker Stalker Con would guarantee a returning horde of fans each year.
Editor-in-Chief, part-time super villain and hoarder of cats. If you can't find me writing, I'm probably in the kitchen!