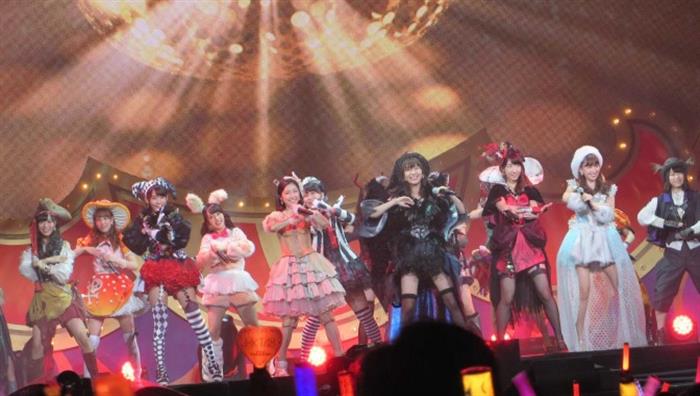 Music Monday: AKB48
If you're not familiar with AKB48, you probably don't live in Japan. AKB48 are, essentially, an absolutely massive pop group with 48 members that rotate in and out of active duty based on popularity rankings and an annual general election.
The group has been around basically forever, certainly as long as any J-POP fan can remember, and has had to reinvent itself, literally and sonically, many times as a result. Here's a short selection of AKB48's finest cuts to brighten up your dreary Monday!
Shouting Diamond

This track should really be called 'Daisukida' first of all, as that's the bit you'll be singing for days. This is the earliest AKB track on our playlist and you can already hear the producers struggling to keep it faithful to traditional idol stuff in an increasingly rock-enamoured pop landscape (this was 2010, bear in mind). Ignore the schoolgirl drama stuff, the chorus is whopper and their group vocal is classic AKB. 
Heavy Rotation

The different generations of AKB are usually defined by whoever the centre happens to be at the time. AKB veteran Yuko Oshima oversaw some of the group's biggest singles and this is probably the biggest of them all. I have absolutely no problem calling 'Heavy Rotation' one of the best pop songs ever recorded. It's pure, sugar,  candy floss, pop, bliss from beginning to end.
Gingam Check

Another monster hit from the era of Yuko Oshima (although you can certainly see Mayu Watanabe waiting in the wings), this track saw another attempt to bring that classic idol sound into a slightly more modern context and it's probably one of the better attempts at it. It's also got maybe the best video they, or any other Japanese group, have ever made. Gangs, gingham and godzilla. I promise none of those are lies.
Koisuru Fortune Cookie

If there was any doubt about where the group would go when Rino Sashihara was elected center, it was all but silenced when AKB dropped 'Koisuru Fortune Cookie' in 2013. There's nothing I can say about this one. It's just catchy as hell and cute as a button.
Kibouteki Refrain

The opening track to AKB48's most recent full length album (they frequently just release singles), 'Kibouteki Refrain' is planted firmly in classic idol territory. The incredibly creepy video was supposed to represent the torch being passed from past to future members to symbolize the never-ending spirit of the group. What the faceless demon stalker freaks are supposed to represent is… anyone's guess.
Kokoro no Placard

Every time I think I've decided on my favorite AKB track I find one I forgot about. That said, 'Kokoro no Placard' is almost always in my top 3. Released at the height of Mayu Watanabe's term as centre, everything about this track is pretty fantastic. It's different from just about anything they've ever done, the production and instrumentation is deceptively intricate and the fact that it somehow still manages to sound like a simple catchy pop number with all that going on is a testament to the ladies themselves. Their vocals are as sweet as ever.
We Will Not Fight

We end today's list with one of the more recent additions to AKB's singles collection. 'Bokutatchi Wa Tatakawanai' is not standard AKB fare at all, instead clearly drawing on not-so-recent pop trends, flirting with avicii-style synths and Lumineers-esque folky guitar plucking. It's a bold step towards uncharted territory for them, but it seems to have worked out. Besides, who could say no to Yuki Kashiwagi?