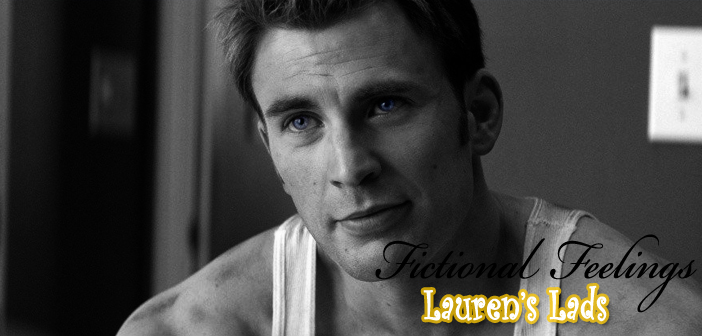 Fictional Feelings: Lauren's Lads
Do you know how hard it is to choose just five fictional characters?! Seriously?! Incredibly difficult!  I changed this list numerous times, feeling bad whenever I left someone out. Maybe it's because I watch so many different tv shows, or because I obsess over certain fandoms, or even play too many games. Bottom line, I guess I just love too many fictional characters! Let's get this show on the road. I present to you, Lauren's Lads:
FLYNN RIDER FROM TANGLED

Yes, my first love is a cartoon character, but who cares because he also appears in the Disney Parks and GOOD LORD that smoulder!! Firstly, he's a thief, and who doesn't love a bad boy, am I right? Especially one oozing self confidence. One who has no problem breaking into a castle. One who reforms himself throughout the entire movie. Personally, I love Flynn Rider's arc in the film, I love how he opens up to Rapunzel and actually allows her to see the real him. How he renounces his thief ways and just wants a life with someone who knows him and loves him for him. Yes, I'm getting extremely sappy but Flynn just makes me smile! And yes, I swoon every time he does that damn smoulder of his! Just click this link and watch the video that makes me go weak at the knees every time!
ROBB STARK FROM GAME OF THRONES

KING IN THE NORTH!!! I'm going with the TV show Robb Stark here, not the book version! I'm swooning as I'm writing here guys! Robb's stoic nature, his leadership and his loyalty to his family. It all just adds to the amazingness of this guy. You wouldn't mind bringing home to your Mammy, not to mention how he'd be the perfect gentleman in front of your Dad. Hey, they could even practice swordsmanship in the back garden! (Maybe I'm getting a little carried away…) You could just imagine Robb coming to pick you upon horseback, his armour glistening in the shimmering sunset, with Grey Wind his Direwolf by his side…
EZIO AUDITORE FROM ASSASSIN'S CREED
Ezio Auditore da Firenze is like a fine wine, he just gets better with age. I'd probably have no problem with him climbing up the side of my house any time. So to get down to why I like Ezio, all you've gotta do is play Assassin's Creed 2, because that was my first exposure to Ezio. Right from the word go I was smitten. He's got a boyish charm in his first game that other assassin's just didn't have for me. He's flirtatious, he's confident, he's cheeky, and yes he's an assassin. Come on, there's really just something about those damn assassin robes!! Try and deny it, I dare you. Not to mention he's a leader as well! Maybe I've got a thing for authority…
JOHN MITCHELL FROM BEING HUMAN UK

Now here's where I bring in the supernatural I guess! Mitchell is a beautiful, stunning vampire from Being Human UK (not that awful US version thanks!), and he lasted three amazing seasons. Yes, I was smitten from the first time he popped up on screen. With his rugged looks, his boyish grin, his Irish accent… oh well, I was doomed! Mitchell is not just this reformed vampire though, oh no, he's far more than that. Watching him struggle throughout three seasons to keep himself on the straight and narrow, it was heartbreaking and Aidan Turner's performance in some of his more heart wrenching scenes just reduced me to tears on more than one occasion. Mitchell was a complicated character but he was the life and soul of the show as far as I was concerned, and it was amazing to see him change throughout his three seasons. And yes, I know what you're all wondering. Would you let him turn you into a vampire, Lauren? Too flipping right I would! (And no, he doesn't sparkle in the sun!)
STEVE ROGERS AKA CAPTAIN AMERICA
"Who's here to prove that we can? The Star Spangled Man with a plan!" Steve Rogers. Who doesn't love Steve Rogers? He's an absolute gentleman falling right out of an era where manners were of the utmost importance. He knows how hard it can be for the little man, he knows how hard life can be, he's extremely loyal to his friends and others (shhh, Tony Stark doesn't count), and he can fight like a super soldier! There's just something about Steve in the films that makes me smile, how much of a gentleman he is, how he flirts… or attempts to flirt, is almost adorable! Then when he dons that Captain America suit and fights to within an inch of his life. Good lord! Yep. I'm on #TeamCap.
Now my honourable mentions that I couldn't leave out!
Bucky Barnes (Winter Soldier), Agent Peggy Carter (Marvel), Lexa (The 100), Black Widow (Marvel), Bellamy (The 100), Elijah Mikaelson (The Originals), Stiles Stilinski (Teen Wolf), Han Solo (Star Wars), Edwin Jarvis (Agent Carter), Barry Allen (The Flash), Indiana Jones (…duh), Own Grady (Jurassic World), Kili (Hobbit Trilogy), etc, etc.
I guess I'm fictional character crazy! Who would be in your Top 5? Disagree with mine? Agree with every single one? Let me know!