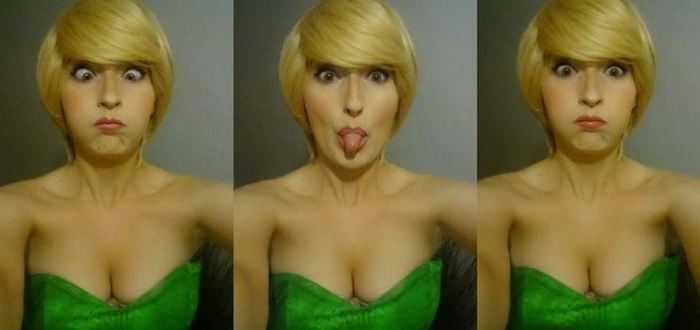 So you've decided you want to be a Disney character and you know you want to cosplay a certain one, and yes, maybe you're fulfilling a dream of yours and you're about to be a princess or a prince, but there's one big problem. What's that problem you're talking about, Lauren? Where on earth are you going to get the right things to be that Disney character? Where do you purchase the best Disney wigs? Which company does the most amazing cosplay outfits? What about the shoes? Or the accessories you may need to become those amazingly fantastic Disney characters we've all grown up with and fallen in love with time and time again?
Don't you fret dear Arcade readers, your cosplay closet correspondent is here to tell you the best places to get those things! After all, I've got lots of advice to create the perfect Disney cosplay under my belt at this stage so who better to help you guys out?
DISNEY OUTFITS
So firstly, I must tell you all that getting an extremely accurate and beautiful Disney cosplay is going to cost you some money. It's not going to be cheap, but you can shop around and find some outfits that won't cost you an arm and a leg,
it really does just come down to how accurate you want your cosplay or how high you want the quality to be.
So first up is a little Etsy shop called pixiedustboutiquee that I myself have bought from in the past and will definitely buy from again as the quality is out of this world. And you can easily see from the demand just how popular the shop really is. By looking at a few of the photos you can easily see why! The example I'm going to use is the Tinkerbell dress I purchased last year and the one I swear by for my Tinkerbell cosplay. Julie, the shop owner, is extremely easy and pleasing to work with and this I can attest to as the Tinkerbell dress I was purchasing had embroidery at the top which I didn't want, and Julie was more than happy to help by not putting that in my order. She even allows a split payment so it wasn't a full sum in one single payment, which is extremely helpful. If you're looking for something a little more elaborate, like Rapunzel's dress from Tangled, then be prepared to set yourself back €483 plus shipping for a customized size dress. But believe me, these outfits are well worth the money. Just one last thing, you may need to wait a bit as Julie usually has a waiting list, which just proves how good she is.
Another site, which can be slightly hit and miss, is an Asian company by the name of Angel Secret! Now I will say this as a warning first: there have been a few complaints from people about Angel Secret, but almost all of them have been sizing problems so please when you are measuring yourself, you need to make sure that you have your sizing correct and perfect down to the last inch. For me? My experience with Angel Secret has been amazing. For
example, my 2015 Cinderella dress (the amazing blue one from the newest film which had many a person squealing over the beauty of it). This dress cost €200 plus shipping, plus a six hoop underskirt that helps puff out the skirt itself. Honestly, this dress is heavy and cumbersome, but the quality of the material and the measurements were done perfectly, so I couldn't fault them any bit. I also purchased smaller Tinkerbell wings from Angel Secret and their shipping was extremely fast, even from Asia. Angel Secret are quite well known for their Frozen characters, and their most expensive Elsa dress will set you back €260 or thereabouts, but I have heard amazing things about the quality. Once again, just get your measurements right! 
Of course, if you want something that isn't going to break the bank, then you can check out CosplaySky who I've mentioned in other articles. I recently purchased my Rapunzel cosplay from them and it is perfect, right down to every detail! And yes, it only cost me €90 in the sale!
DISNEY WIGS
Once again we're setting sail for Etsy because if you're looking for a Disney wig that you're not going to style yourself, then check out Etsy because one single quick search will bring up some unbelievable results!
Up first is littlepennylane and for this example we'll take the Rapunzel braid wig which is the one that usually makes cosplayers weep whenever they look at their bank statements. Littlepennylane's Rapunzel braid wig will set you back by about €460 if you want the flowers with it, or €437 if you want it without. The quality of this wig has been raved about so, believe me, it will be worth it!
Bbeautydesigns is another shop where you'll find beautiful wigs. For example, Ariel will cost you €92, Beauty and the Beast's Belle in lace front will cost you €207, and a spectacular Merida will set you back €165, but that is all plus shipping so keep that in mind. 
Personally, I have never purchased a pre-styled wig from Etsy even though I have considered it while searching for a Rapunzel wig. Unfortunately, I've found them to be a little too expensive and have decided to do it myself so I'm checking out Arda wigs, a company I've raved about in previous articles, and I'm purchasing a 5 foot Delilah with two packs of wefts. And yes, I'll update you all on how that goes at a later date.
When it comes to other accessories, you can find bits and pieces on Etsy from some of the previously mentioned shops, not to mention through Angel Secret and CosplaySky as well, just to name two others. Ariel's shells, hair flower and Elsa's snowflake hair charms are all pieces I've seen numerous times at different prices on Etsy and it really does pay to just take some time and browse through different shops to see which one will do the best price.
If you're still unsure of where you should purchase something Disney-wise, then please check out the Facebook group Disney Cosplayers who have helped me and many others on more than one occasion!