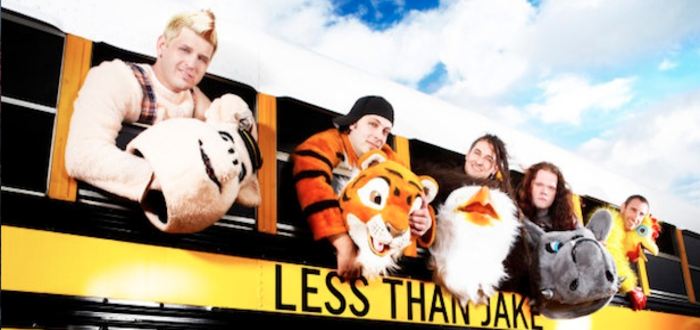 In keeping with the chosen theme of nostalgia, here's a song that was a big part of my childhood without me even realising it, by Less Than Jake!
The more I think about it, the more I realise I grew up at a bloody awesome time. I was just the right age to experience the birth of Pokémon as a kid, pop-punk was the biggest thing on the radio, extreme sports like skateboarding were all the rage and the 'Japanimation' craze (it wasn't even known as anime at the time, that's how long ago we're talking) was in full swing, with shows like Sailor Moon, Dragon Ball Z, Cardcaptors and Digimon sending kids everywhere mental.
The last one especially is relevant to me, as I was a huge Digimon fanatic back in the day. I've never made the time to rewatch it in my adult life, which I really need to do, but I did rewatch the first movie a while back and remembered how much I loved the soundtrack. 'All My Best Friends…' was on that soundtrack, and I was shocked to realise that I had originally heard it so many years ago without knowing, and it also showed up in Tony Hawk's Pro Skater 3, another pillar of my childhood.
I had the pleasure of seeing Less Than Jake live a few years ago and this is by far one of their best songs. It's just damn good fast-paced ska-punk with an insane bassline, and it's super important to my childhood for its presence in two things that I love. In fact, the soundtracks to Digimon and Tony Hawk's Pro Skater probably turned me into what I am today.
Trash, that is. They turned me into punk trash. But fun trash, at least.