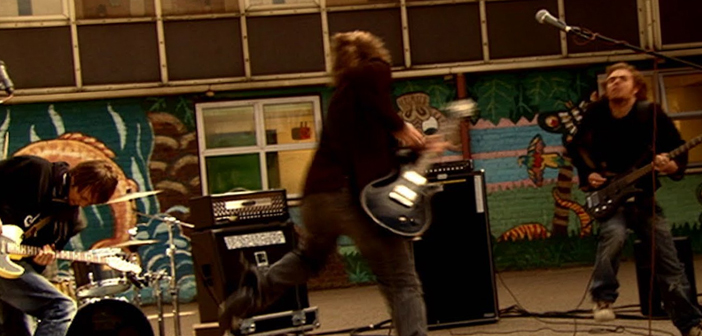 Things have been a wee bit poppy and electronic around here lately on 'Track of the Day', so it's time to get back to some riff-driven excellence with the dudes from Fightstar.
Most of you probably know Charlie Simpson as the guy who left pop-punk trio Busted at the height of their success to make heavier music instead. At the time this was some earth-shattering news, with the music press scoffing and saying he'd never have the chops to prove himself as a "real" musician and Busted's fairly young fanbase literally cried out in anguish.
Back in the day as a ten-year old, of course I was a Busted fan, so my little ears were eager to hear what Charlie was gonna do. And boy, were they pleased when I heard 'Paint Your Target'.
It's not even too much of a stretch to claim this as the song which got me into more hardcore music, and for that I can never thank it enough. Yet going back to it as an adult, you realise there's so much depth to the track that you can never hope to pick up on as a young 'un – not least of which being that the lyrics are an oblique reference to Neon Genesis Evangelion (as was the album Grand Unification as a whole, even down to its title). Simpson was 20 when he wrote this. No 20 year-old should ever have the right to put out an album with lyrics that reconcile failed relationships with the onset of the apocalypse, while also referencing one of the best anime series of our time, not to mention the brilliant riffs and amazing vocals into the bargain.
Really, you should listen to the album as a whole, but if you just want a little slice of post-hardcore excellence, 'Paint Your Target' is among the best on offer.