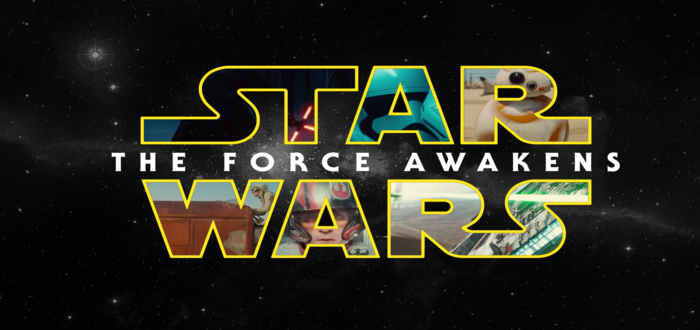 Style Saturday: Your Wardrobe Awakens
Happy Saturday the 16th, guys and girls! Or, to any Star Wars fans among us (read as: everyone!), Happy 1 Month Anniversary of The Force Awakens! It's been a full month and the movie is still going strong in cinemas with no sign of stopping soon, so if any of you are planning to go see it for the umpteenth time, you may feel like dressing for the occasion.
Well, The Arcade has you covered with outfits for whichever side of the Force you fall into.
First up – The Dark Side!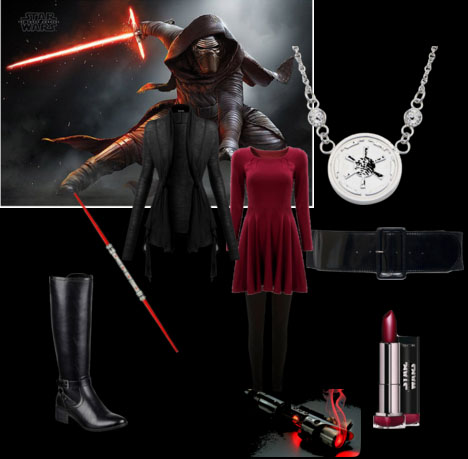 For our wonderful dark ladies of the Sith we're going for a deep red dress, no doubt to match your lightsabers, as well as the official Covergirl Star Wars red lipstick. Match this lipstick with a fierce cat eyeliner and you'll have your enemies running for the hills with a single look. As with any force user in the Star Wars universe, no outfit is complete without long flowing robes, but seeing as how we've come a long way in fashion since the events of the rebellion, let's modernise the robe idea with a waterfall cardigan in black. Match this with a wide leather belt and some stylish leather boots and you're well on your way to looking like the baddest Sith apprentice this side of Korriban!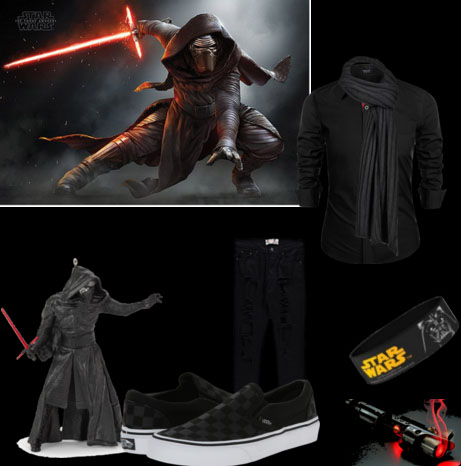 For our all powerful Sith Lords, I'm afraid we have no choice but to go as emo as Kylo Ren. You could of course opt for a red shirt (don't worry, this isn't Star Trek, you won't die!), in the same vein as the female outfit idea. Looking at the universe's strongest Sith Lords, they all have one thing in common; a severe dislike of both colour and rebels. Even the Death Star was plain grey! I mean, could you imagine Darth Vader and Palpatine going through paint swatches?
So, keeping to an all black theme, my recommendation is to go for the basics; a black shirt, black skinny jeans (ripping optional, we can pretend you threw a fit with a lightsaber before getting dressed), and a black pair of vans. In the spirit of robes, opt for a scarf or loose hoodie. Finally, don't forget to have something Vader themed to show off your fanboy dedication for the galaxy's most feared badass!
Light Side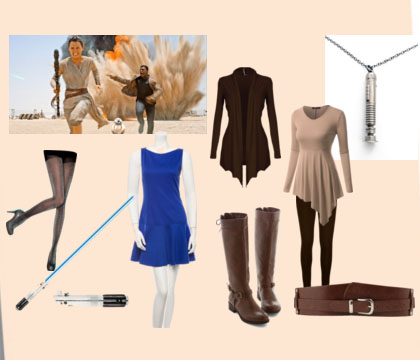 Jedi tend to be a tiny bit drab in their colour choices, possibly even more so than Emo Ren and his all black attire. Every Jedi tends to opt for a brown and beige pallet, and to their credit it's hard to go wrong with a classic. However, it's my opinion that you should always leave the option for some colour in your life, so in that spirit I've made two interchangeable outfits to play with. If you're looking for something classic, there's always the option of a plain beige, preferably a loose or oversized top and dark brown leggings.
However, if you're again looking to coordinate your outfit and your weapon, I recommend a flattering blue dress with an A-Line or flare at the bottom. For tights to go with your dress you can of course go plain, but I like the idea of getting something with a slight sparkle to tie into the star part of Star Wars.
For both outfits, pair them with a waterfall cardigan in dark brown, a wide belt and leather boots to complete the Jedi look. Bonus points if you happen to have a lightsaber necklace lying around to really show off your fandom.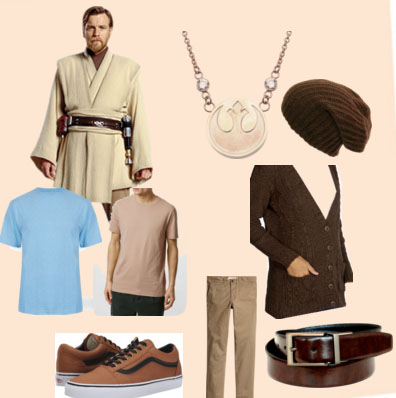 Again, I'm terribly sorry boys, but you don't have many style options here. If Jedi were allowed to fall in love with anything, it would be the colour beige! But don't despair, you can still show some colour if you opt for a blue shirt to pair with a brown cardigan, belt and brown/beige trousers. Just don't forget to wear some comfortable shoes in case you need to do some sweet force jumps on your way to the cinema. Looking for a little extra bling to show off? Try a rebel insignia necklace, just don't give away your location to any Imperials floating about.