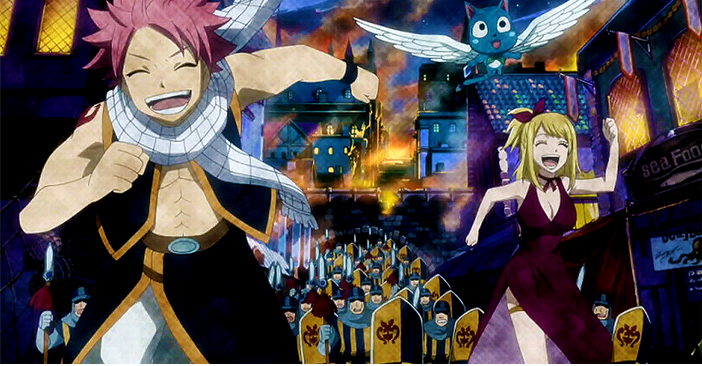 Style Saturday: Guild Threads
They often charge head first into battle without a thought about armor or protection (okay maybe Erza Scarlet does but that doesn't count), regardless of the fact, the wizards of the Fairy Tail guild wear some pretty snazzy threads, practical or not.
It got me think a little bit more about my own wardrobe and the clothes I have to don for work. Fine I'm not accepting wizarding quests or fighting diabolical forces but I have to dress and act a certain way, Monday to Thursday that is! Fridays are different though! Fridays the work clothes, stuffy shirts, cardigans and chinos can be replaced with something a little more casual.
Taking inspiration from the attitude of uptight celestial wizard Lucy Heartfilia and laidback fire dragon slayer Natsu Dragneel, these outfits transition easily from office to bar for Friday night drinks.
Lucy Heartfilia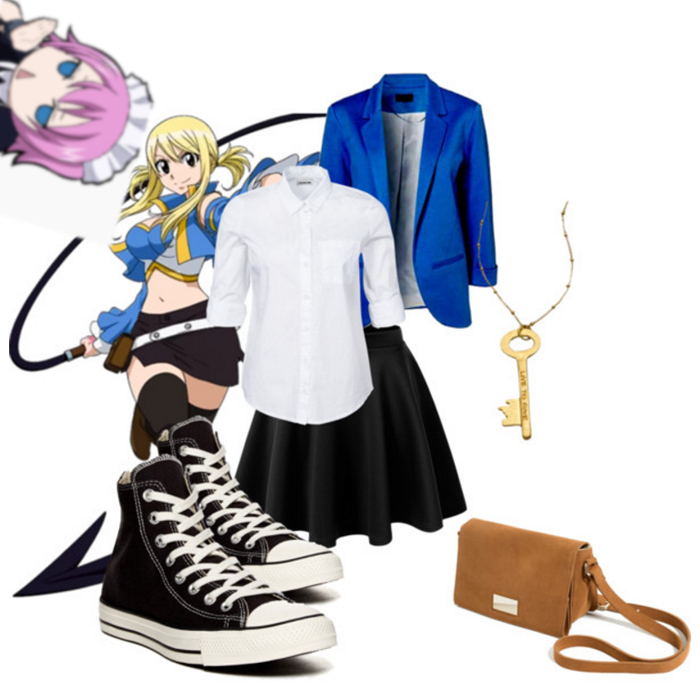 When Lucy manages to keep her clothes on long enough into an arc you know things are taking a serious angle. As famous for changing her outfits mid season arcs as she is for being a powerful celestial wizard I've decided to stick with her mainstay outfit.
When you're doing a Style Saturday I find it difficult not to fall into casual cosplays, that's not the point of this piece. To avoid that trap this time round I've taken staples from her Anime appearance and leave everything else out.
The black flared skirt and blouse aren't going to look out of place in an office but couple with this blue blazer and you've dressed it up perfectly. I've gone for high top sneakers for this look, you may need to swap these out for simple black flats depending on your office but carry them in your bag and you can change the overall look in seconds going from office chique, to party ready in an instant.
As a nod to Lucy and her command of the Zodiac spirits, I've added this simple golden key necklace and the leather cross body bag is practical while looking somewhat like her key chain holder without crossing into the realm of cosplay.
Blazer €30 Blouse €21 Skirt €8 Bag €46 Necklace €33 Sneakers €43
Total €181
Okay so a little over our budget of €150 but you surely have a pair of hi-tops or converse in your collection. If not then you can grab cheaper alternatives in most department stores bringing the costs down.
Natsu Dragneel
Firstly that coat only sets you back by €11, what are you doing not buying it right now? The outfit is very relaxed but we're in a cold snap here and while Natsu himself might be impervious to the cold but you are not. With this weather you need a good coat, one that shields you from the wind but doesn't smother or weigh you down too much.
My favourite thing about this collection is the amount of colour that's actually in it and they're complimentary to each other. The jeans in this case are neutral and act to draw out the colour while also taming them. Flannel shirts are back in again, long sleeve or short you should probably stock the wardrobe with a variety here because they're versatile and work with so many other outfits and occasions.
My favourite piece in the outfit here is the shoes! I love the orange t-shirt but the shoes take the prize here. A nice swap for those poxy dress shoes, these trainers pop with colour while also offering comfort.
Don't forget your scarf when compiling the outfit, we've all got an afghan scarf in the closet somewhere so add it to put the finishing touch to your Natsu inspired ensemble.
Jacket €11 Shirt €37 T-Shirt €12 Jeans €23 Scarf €7 Shoes €29
Total €119
Editor-in-Chief, part-time super villain and hoarder of cats. If you can't find me writing, I'm probably in the kitchen!