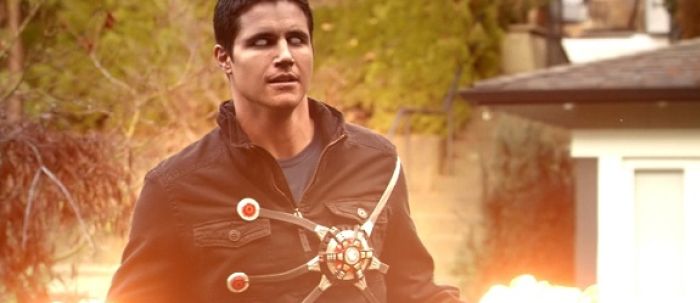 Robbie Amell To Make A Flash Return
"You can't keep a good Firestorm down," says Flash executive producer Andrew Kreisberg. Only this time, he's back with a twist or, in this case, a bad storm. Deathstorm is upon us as a new image has surfaced on Twitter revealing Robbie Amell's Ronnie Raymond suited and booted as Earth 2's mightiest Deathstorm. Oh dear.
#TheFlash shoots a scene for an upcoming episode with guest star Robbie Amell in his Earth 2 outfit as Firestorm pic.twitter.com/NPgEtALdnP

— Canadagraphs (@canadagraphs) January 3, 2016
When we last saw Robbie Amell on the show, he had sacrificed his life in order to close the singularity that had opened above Central City, but now EW have confirmed that Earth 2's Ronnie Raymond will be teaming up with Earth 2's Caitlin Snow as Killer Frost (Danielle Panabaker) to form a very dangerous double act.
We're definitely excited to see where this leads when The Flash returns Tuesday January 19.