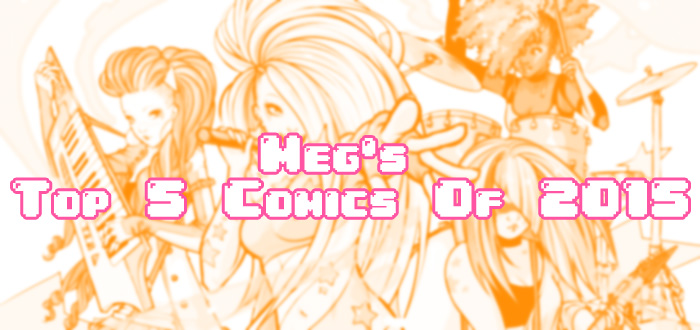 Meg's Top 5 Comics of 2015
2015 was a year full of events. Wars were secret and worlds converged, reboots fought it out every week, Bobby Drake came out, people died, people came back to life, indies snuck up on us, we all fought about Alan Moore and everyone was confused. It's been one hell of a year and these are five of the comics that kept me trudging through the stacks!
Jem and the Holograms
I picked up the first issue of Jem and the Holograms purely because the cover was so darn sparkly. I had a vague, fuzzy memory of hearing about the cartoon and a passion for girl-bands, sci-fi and everything pink so I took the plunge and haven't come up for air since. Reading Jem and the Holograms is like submerging yourself in rainbows and glitter and pure happiness. The characters are lovable and endearing, the art completely gorgeous and the colours bright enough to make you see floating blobs when you close your eyes. It's just so good.
It's also a massive step in the right direction when it comes to representation in all-ages comics with it's glorious mix of skin colours and the single cutest montage of sweet sugary lady-love of all time.     
Lumberjanes
From the very first issue Lumberjanes has been breaking the mould for
 all-ages comics in ways not even the most hardcore of lady-types could have predicted. But this year, with the mould in pieces at their feet the Lumberjanes team decided to raise the bar. Ever the over-achievers they took the bar, snapped it in half using the power of pure friendship and teamwork and fed it to a dinosaur.
Just like Jem and the Holograms, Lumberjanes has brightened the comics world and made it a much more inclusive place to be. With the reveal that leader of the Lumberjanes, Jo, is a trans girl hearts grew Grinch style and a wave of optimism hit even even the grumpiest of us.   
Clean Room
Clean Room was a late addition to the list but it hit the end of 2015 hard. It's the story of a creepy cult leader responsible for a bestselling book and a whole lot of suicides.
There have only been three issues released so far but they've all been nightmare inducing and glorious. It's the exact brand of disgusting that only Gail Simone can write, the kind that makes you laugh through your shivers because how on earth does she even come up with this stuff?! It's gross, gory, scary and addictive. Although, to be perfectly honest, Gail Simone could write about paint drying and it would make my list! 
The Unbeatable Squirrel Girl
Marvel had a lot of great titles this year, so many that The Unbeatable
 Squirrel Girl could easily have been lost in the stacks. But despite all of the eye-rolls Doreen and Tippy Toe charmed their way into everyone's hearts and became one of the most popular books of the year. It also became one my very, very favourites.
It's intelligent and silly, hilarious but never mean-spirited and always genuinely fun. The humour has an awareness that creates a safe space for everyone but the laughs are constant and sincere.  
Bitch Planet
Bitch Planet is so much more than just a comic. It's a revolution. It's a groundbreaking story that gives power and inspiration to women, no matter how non-compliant. It only took one issue for Bitch Planet to start making ripples, fans started getting tattoos of the non-compliant symbol and it became a battle cry for everyone who didn't fit inside the box.
It's a phenomenon but at the very heart of it all is a great comic. It's a unique and powerful story that refuses to hold anything back, doesn't care if it makes you uncomfortable and takes glee in not only pushing the boundaries but smashing them. I love with Bitch Planet with a fiery passion it always reminds me I have inside, and I'm beyond grateful for it.
Happy new year! May 2016 bring more great stories and maybe even the end of Secret Wars!