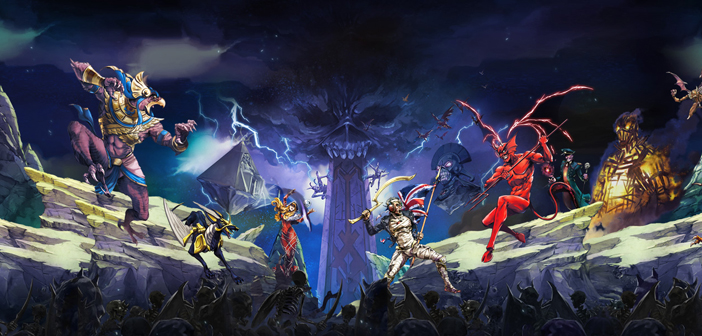 Iron Maiden Releasing RPG Game For Mobile
Legendary English rock band Iron Maiden are creating a video game. Titled Iron Maiden: Legacy Of The Beast, the game is described as an "action-packed, free-to-play RPG steeped in Iron Maiden mythology."
Developed with a "hand in hand" relationship with Iron Maiden band members, Legacy Of The Beast is still work in progress at Roadhouse Interactive, the developers behind Warhammer 40,000: Carnage. The game will see players embody the band mascot, Eddie, in all his forms from through-out the band's history as they explore new worlds and battle a cast of characters in a variety of different settings and locations.
Naturally, the soundtrack is being provided by the band themselves, with previously unheard live recordings among the tracks chosen. Sound engineer Tony Newton is working under close scrutiny with Maiden mainman bassist Steve Harris to get the most out of the gameplay experience with Maiden's music in tow.
"As a lifelong fan, I have always thought that Maiden's music, lyrics, and cast of characters would provide the perfect basis for a deep RPG experience," Roadhouse CEO James Hursthouse stated on the project, with Harris adding. "It's something we have been looking at revisiting since Ed Hunter way back in 1999. Now in 2016 it can all be done on a smartphone so it makes it even more accessible for Maiden fans everywhere and also all the gamers out there."
Iron Maiden: Legacy of the Beast is expected to release during the Summer on both iOS and Android.