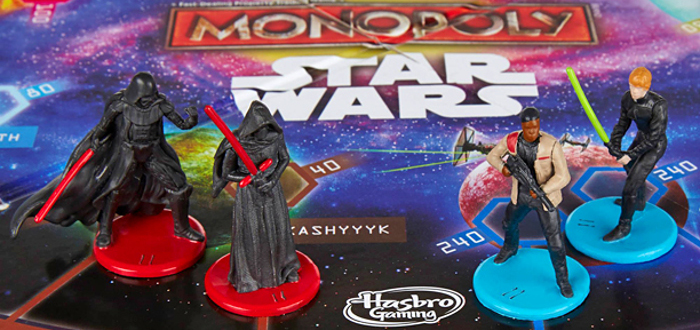 Hasbro Releases Statement Regarding Rey's Absence From The Force Awakens Monopoly
Rey, one of the new heroes introduced in Star Wars; The Force Awakens, is conspicuously absent from Hasbro's special edition Monopoly for the film. The usable characters are Luke Skywalker, Darth Vader and other newbies Finn and Kylo Ren.
Naturally, this has caused a bit of stir as female characters continuously get the short end of the stick regarding merchandise. Hasbro has released a statement to Entertainment Weekly explaining the decision:
The Star Wars: Monopoly game was released in September, months before the movie's release, and Rey was not included to avoid revealing a key plot line that she takes on Kylo Ren and joins the Rebel Alliance.
The spokesperson added that Rey is featured in several of Hasbro's other Star Wars: The Force Awakens related products.
As a reasoning, it seems sound and they were certainly at the back and call of some strict PR-related parameters. But, couldn't Rey have been included with her spear-like weapon she uses for the first half of the movie? Given the game includes Darth Vader and young Luke Skywalker, couldn't the game have been constructed without direct ties to the plot of The Force Awakens? Why couldn't a set of character models for the game have been released post-opening, with Han, Chewbacca, Leia and Rey, avoiding spoilers with base package but still allowing players use her?
Nonetheless, Hasbro were in a tight spot but there's a complacency here that's hard to ignore.