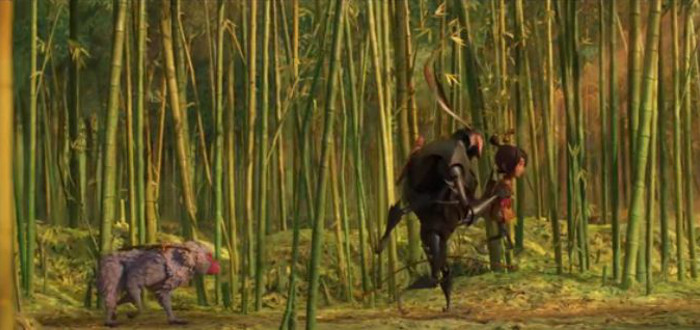 First Kubo And The Two Strings Trailer Is Stunning
What do you get when you meld Mortal Kombat with Scott Pilgrim? Kubo And The Two Strings from LAIKA is probably as close as we're ever going to get form the looks of the first trailer!
The studio behind Coraline, ParaNorman and The Boxtrolls is back with a story that melds Japanese folklore with some western sensibilities and some jaw-dropping visuals. Seriously, just take a look for yourself:
LAIKA have been building an incredible reputation for themselves with their films. Their brand of approachable darkness is really unlike anything since Tim Burton first started making movies and Kubo might be their most impressive yet. Some of the set-pieces on display are staggering and the variety of characters and setup hints at a story legitimately grand in scope and execution. And the cast speaks to how much Hollywood's biggest believe in them, with Charlize Theron, Ralph Fiennes and Matthew McConnaughey among others providing voice talents.
The full synopsis is as follows:
Kubo and the Two Strings is an epic action-adventure from acclaimed animation studio LAIKA. Clever, kindhearted Kubo (voiced by Art Parkinson of Game of Thrones) ekes out a humble living, telling stories to the people of his seaside town including Hosato (George Takei), Akihiro (Cary-Hiroyuki Tagawa) and Kameyo (Academy Award nominee Brenda Vaccaro). But his relatively quiet existence is shattered when he accidentally summons a spirit from his past which storms down from the heavens to enforce an age-old vendetta. Now on the run, Kubo joins forces with Monkey (Academy Award winner Charlize Theron) and Beetle (Academy Award winner Matthew McConaughey), and sets out on a thrilling quest to save his family and solve the mystery of his fallen father, the greatest samurai warrior the world has ever known. With the help of his shamisen – a magical musical instrument – Kubo must battle gods and monsters, including the vengeful Moon King (Academy Award nominee Ralph Fiennes) and the evil twin Sisters (Academy Award nominee Rooney Mara) to unlock the secret of his legacy, reunite his family and fulfill his heroic destiny.
Kubo And The Two Strings will hit cinemas August 19, 2016.