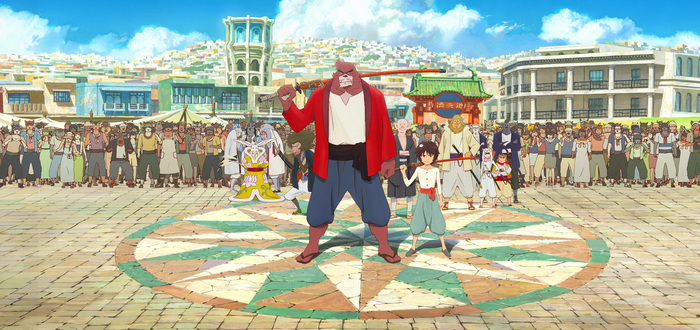 English Dub Cast And March Opening Announced For The Boy And The Beast
Tuesday saw FUNimation Entertainment announce that Mamoru Hosoda's The Boy and the Beast will have a theatrical opening on March 4 while also unveiling the English dub cast for the film. FUNimation worked with director Hosoda (Summer Wars) in order to develop the English dub for the film and cast includes some top voice talent:
Luci Christian as Kyuta (Young)
Eric Vale as Kyuta (Teen)
John Swasey as Kumatetsu
Monica Rial as Chico
Bryn Apprill as Kaede
Sean Hennigan as Iozen
Alex Organ as Hyakushubo
Steve Powell as Lord
Ian Sinclair as Tatara
Brittney Karbowski as Jiromaru (Young)
Josh Grelle as Jiromaru (Teen)
Morgan Berry as Ichirohiko (Young)
Austin Tindle as Ichirohiko (Teen)
Jessica Cavanagh as Kyuta's Mother
Chuck Huber as Kyuta's Father
The Boy and the Beast was submitted for a nomination in the Animation Feature Film category of the Academy Awards but did not receive one. FUNimation have described the film as:
When Kyuta, a young orphan living on the streets of Shibuya, stumbles into a fantastic world of beasts, he's taken in by Kumatetsu, a gruff, rough-around-the-edges warrior beast who's been searching for the perfect apprentice. Despite their constant bickering, Kyuta and Kumatetsu begin training together and slowly form a bond as surrogate father and son. But when a deep darkness threatens to throw the human and beast worlds into chaos, the strong bond between this unlikely pair will be put to the ultimate test—a final showdown that will only be won if the two can finally work together using all of their combined strength and courage.
The Boy and the Beast is slated for an American theatrical release on March 4. There has been no mention of a release on this side of the water but watch this space.