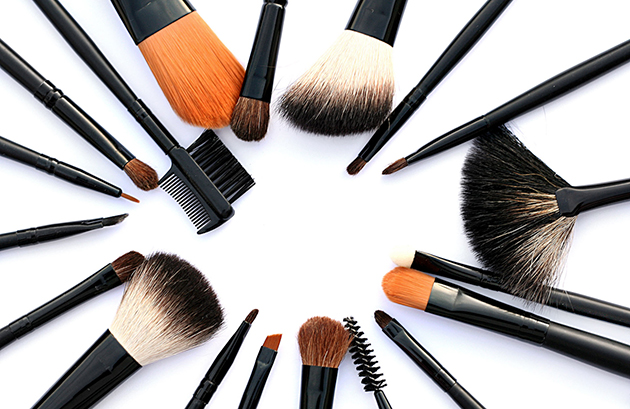 Cosplay Makeup Bag: Application Preparation
In past articles in the series we have discussed at length all types of make up for all types of skin types and facial features that we haven't discussed is how to apply the make up or even what to apply the make up with.
In my house when I was younger I was the only person who used to do make up and showed a genuine interest in it so I had to MacGyver it. I'm no stranger to using my hands to apply foundation or eyeshadow. My fingers were my brushes and each had different roles, the index was for applying and pinky for blending. I tried and wasn't too unsuccessful mind you but it helped me learn the dimensions of my face really well so when I did get my first set brushes I knew what to do where.
Foundation (Essential)
When it comes to applying foundation there are all sorts of brushes and there are some pretty cheap ones to be found but not all brushes are created equal, find something in midrange to get a good brush that doesn't break the bank and offers some durability.
Soft brushes are a must if you have sensitive skin. You don't want to irritate it prematurely.
EcoTools Retractable Foundation Brush – € 7.50
EcoTools Bamboo Brush – € 10.99
Real Techniques Foundation Brush – € 14.99
The shape of the brush makes strokes easy but also allows you to manipulate the foundation well. Once you are comfortable with foundation you might upgrade to a sponge applicator for that thoroughly blended look.
Concealer
If you are blessed with flawless, even skin I envy you.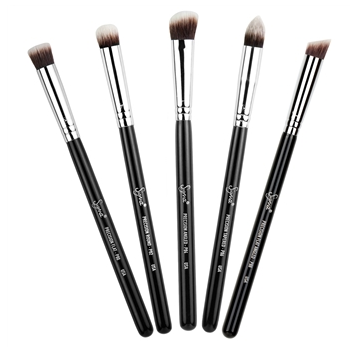 Blemishes, dark circles and hyper-pigmentation can affect a lot of people and the best way to cover it up when your foundation just isn't full coverage is investing in the powers of a good concealer. Now with concealers you might find they have a thicker consistency which is preferable to cover up anything that needs to be covered up.
Chances are you'll only need to apply the concealer to specified zones and for that a small concealer brush is the way to go.
EcoTools Bamboo Deluxe Concealer Brush – € 7.49
NYX Pro Spot Concealer – € 10.50
Smashbox Precision Concealer – € 20.50
I have a few and the tiniest ones are usually my favourites. You can be extremely precise with the application.
Eyeshadow ( Essential )
For eyeshadow brushes I have 2 essentials that I need. One brush that I can use to apply or pack on colour. The other has to be small and precise enough for blending.
Now these brushes can vary quite a bit in shape. A blending brush typically has a very tapered appearance and on the other hand the run of the mill eyeshadow brush has that flat fan shape.
Seventeen Eyeshadow Brush – € 2.99
Boots Eyeshadow Brush – € 6.99
EcoTools Eye Enhancing Duo – € 7.49
NYX Pro All Over Shadow – € 12.00
M.A.C 239 Eye Shader Brush – $ 25.00
I love a good blending brush and no make-up bag, cosplay or otherwise is complete without one. Even if you think you'll never wear eyeshadow you will need at least a nude eyeshadow to give your eyes that well rested look without adding under eye lotions and potions.
Do not dismiss the foam applicators that come bundling in kits either, utilise them and get use to the feeling of extending your will through the brush. They can be quite unforgiving at times but it makes for a good lesson in technique, flow and pressure application.
Powder (Essential)
A fluffy powder brush that is soft but packed enough to hold a lot of product should have pride of place in your kit. Kabuki brushes are my favourite when it comes to setting my face. They come in all sorts of sizes but usually have shorter handles than other makeup brushes but there are standard face brushes out there too that are perfect for powder/blusher application.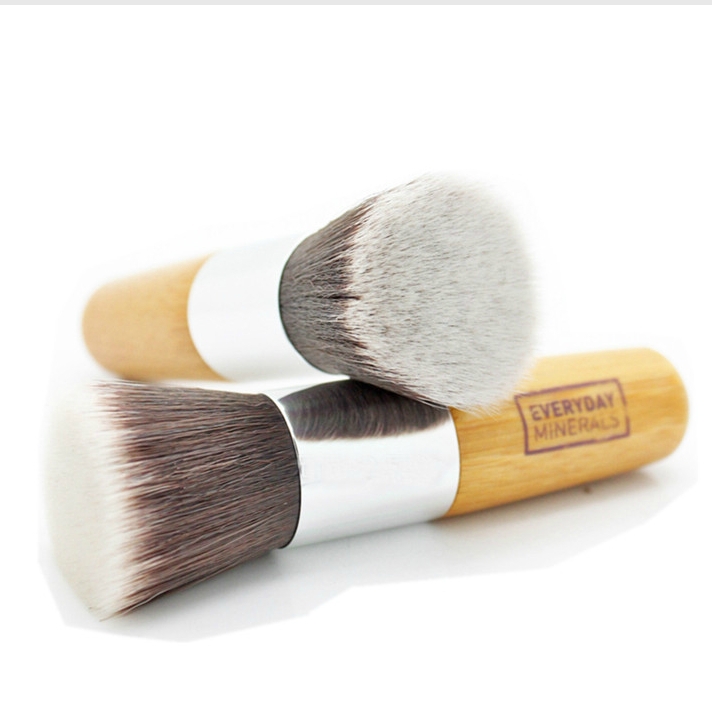 Real Techniques Retractable Powder Brush – € 16.99
EcoTools Retractable Kabuki – € 17.99
Smashbox Face and Body Brush – € 48.50
These brushes can also be used for powdered foundation if you aren't a liquid or cream type of person.
When I powder my makeup I like to set it well and if I need it to last a really long time I will sit and cook for up to 20 min before leaving the house.
Sets
There are very few sets that I have found that will win me over with every single brush but there are some cheaper sets out there that are great and definitely worth the investment.
Boots Mini Black Brush Set – € 7.99
Sleek 7 Brush Set – €16.99
EcoTools 6 Piece Brush Set – €19.99
Real Techniques Core Collection (face) – € 29.99
Real Techniques Starter Set (eyes) – € 29.99
Stila 5 Piece Brush Set – €36.00
Keep an eye out for deals on makeup brush kits that services like  Groupon and the likes offer for even cheaper ones. If you're just dabbling in makeup for the time being don't rush out and spend hundreds on brushes until you are comfortable and used to work with them – the cheap ones will work great for practice.
When getting a hang of using brushes just remember that you are a painter and your face is your canvas.
Keep an eye out for the next Cosplay Makeup Bag where we will examine application tips and techniques that might work for you.