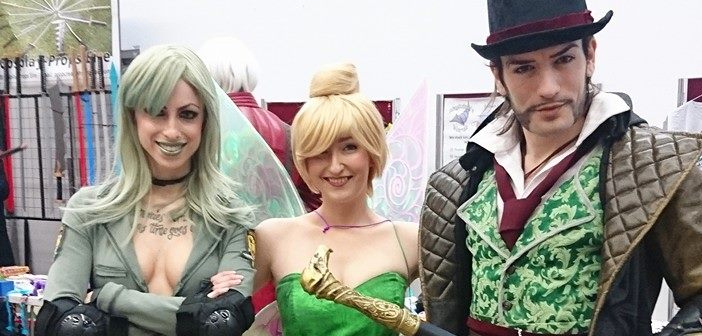 Cosplay Closet: Surviving Conventions
Cosplaying allows us to dress ourselves up, get into character and embody that spirit we've worked so hard at, but it also means we get to have fun with our friends, compete and even pose! With all that action though, how do you ensure you and your cosplay stays in one piece?
Having just been at AkumaKon down in Galway for the weekend, I personally think this is the best time to go over the dos and don'ts if you're aiming to get wear out of your cosplay! At the event I got to chat briefly with the amazingly talented cosplay guests, Leon Chiro Cosplay Art and Miss Hatred – Jessica Armanetti and they were kind enough to share their own advice with our readers:
CHOOSING THE BEST COSPLAY
When it comes to wearing a cosplay at any convention, you're gooing have to take a few things into consideration! You have got to choose your cosplays very carefully.
For example, my weekend schedule at AkumaKon was to be as follows;
Tinkerbell on Friday, Rey on Saturday and Dr Harleen Quinzel on Sunday!
I chose Harleen on Sunday because she would be far more comfortable after a night out on Saturday. Comfortability is one of the most important factors for me when I'm at a convention due to the fact that I know I'll be there all day in that one outfit and I don't want to be constantly pulling at different bits on a cosplay, or carrying around something that is going to cause me pain, put strain on my body and be awkward to move around in at the event.
Of course there are times when being comfortable isn't going to be your main priority for the convention or for your cosplay. Sometimes accuracy is going to come out on top! For me that point hit on Saturday with my Rey cosplay. While the actual outfit was very comfortable, the staff, my prop, caused a massive bruise on my hip from letting it rest there while I was walking, something I had forgotten to consider.
So you've chosen the best cosplays for the weekend, but you've still got to make sure that you're going to abide by the rules of the convention itself when it comes to cosplay policies. You have to make sure that your prop isn't going to be taken from you for being a danger to the con attendees, you have to make sure that your outfit itself isn't going to break any rules, for example; don't show off so much flesh that you could be asked to leave! Before planning your outfit and schedule make sure to check if the Convention has posted a policy online and if not contact the organisers should you have any questions.
SURVIVING THE CON!
When you're packing your stuff for the day (if you're lucky enough to have a bag that works with your cosplay), make sure to pack some little snacks! For me, breakfast bars are fantastic, mints, chocolate and of course water. Just make sure you've got your money and your phone on you as well, and ID if you need it! One massive piece of advice I can give you is this; bring body spray!
You do not want to be smelly at the convention, honestly. It's not just for you but for the sake of other people around you. Be thoughtful!
During the con, it's always a good idea to pop any extra stuff into the cloakroom, that way you won't be throwing stuff down on the ground for pictures, you won't be worrying about other stuff and you won't turn your friends into personal butlers! Just make sure to keep your cloakroom ticket on your person and don't lose it.
Keep hydrated throughout the day. There's nothing worse than being dehydrated while you're in cosplay, especially if it's armour, heavy fabric or constricting in any way.
When approached by photographers, work with them as best you can! They want to get a great shot of you just like you want to get a great shot of your cosplay from them. If you want to make sure you'll find your pictures after the convention, get yourself some cosplay business cards, that way the photographer can find you afterwards and tag you appropriately, they really do work wonders.

Remember, if you don't want to have your picture taken at some point, just be polite to the photographer and tell them maybe later, or excuse yourself from the situation. 
I was met with a new situation this weekend at AkumaKon, and that was meeting little kids as some of their favourite characters. If this happens to you, then act the part as much you can and be nice to them. They're amazed by you and whatever character you are, just remember that.
As for props, be careful when you're in a group or a packed convention, or even the trade hall.
You don't want to hit anyone, you don't want to hurt anyone with it including yourself! General rule of thumb for most events, blade weapons are a not allowed even when sheathed, airsoft weapons will vary from event to event so enquire if you will be allowed carry it.
Lastly and perhaps most importantly! If you come across someone being extremely rude about your cosplay or overstepping a boundary, get yourself out of that situation. If the person oversteps a boundary by touching you in a way you're not happy about or you feel you're being harassed, you can simply speak to a member of convention security. Your safety is your main priority!
[Cosplayers Featured: Hawkeye: Will O'Siorain, Rey: Pixie Styxx, Chell: Bonnie Le Bon, Scorpion: War Panda Cosplay, Tinkerbell: Pixie Styxx, Arrow: Groovy-Guy's Costume Emporium, Constantine: Archangel Cosplay, Mystogan: Gary McCluskey, Black Canary: Jordeekai, Erza Scarlet: Knightwalker Cosplay, Mirajane Strauss: Cat Whelan, Lucy Heartfilia: Shell Valentine, Kylo Ren: Unknown, Rose Quartz: Heather Sheehan-Corkery]
[Photography: Caroline Walsh, Darachphotography, Stephen Meenaghan]