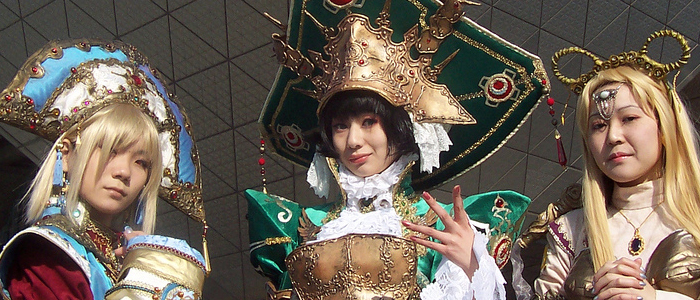 So it's a few weeks after Christmas and while we ourselves feel a little heavier after many feasts and sweets, it's our bank accounts which may feel quite a bit lighter! In other words; we're all broke and can't afford a chocolate bar from the shop down the road let alone a cosplay from a cosplay site or even Etsy.
Yes, things may seem bleak in regards to finances for cosplaying right after Christmas and the New Year, but fear not, there are always ways around that, Arcade Readers!
Within this article right here I'm going to talk to you about sales that are happening on a certain site, show you some examples of a sale item which I myself have bought, and I'm also gonna talk to you about 'Disneybounding' which Tendai actually spoke about previously in this article right here. I'm going to look at how you can do it with other characters and not just necessarily Disney just in case you're not a fan of the Mouse himself.
Also, as I've discussed previously, I'm just gonna give you a quick rundown of how to budget for those cosplays coming up this year! So lets get started!
SALES
Sales right after Christmas can be absolutely fantastic and well, after spending so much money on presents and clothes and whatever else over the holiday period, they're definitely very much appreciated and needed. It can be hard at times when you see a cosplay you have the worst urge in the world to do but unfortunately, you may have bought yourself a Sphero BB-8 or maybe you got your family member some collectable item that cost an arm and a leg so you think that cosplay may have to wait. For me? That cosplay was Rapunzel from Tangled, but while her braid wig may have to wait a bit, her dress certainly didn't thanks in large part to CosplaySky.
CosplaySky do a number of sales over the year, but this year right before Christmas they had one where a lot of their items were 50% off. Their Christmas sale turned into their New Year sale which doesn't end until January 20th! So you've got an entire week to scour through their sales and choose a cosplay you need which has a nice percentage of the price lobbed off! As I said, I purchased their Rapunzel for $99 when it is usually $199, so with $100 off the price, I couldn't really say no to it.
As for other cosplays they have available? Mad Moxxi at $119.99 (usually $239.99), Harley Quinn Suicide Squad 2016 at $76.99 (usually $153), Green Arrow Season 4 at $135.99 (usually $370) and Hawkeye Age of Ultron at $139.99 (usually $280). That's only four out of 45 different sale items they have at the moment! I will officially vouch for this website after purchasing three different costumes from them, I've never had a single problem with their sizing, their shipping or anything else. And with those prices right now, how can you go wrong? 

DISNEYBOUNDING
As perviously discussed by Tendai in her amazing article, Disneybounding is basically the act of cosplaying as a Disney character but while wearing your own clothes. Yes, that's right, you can basically closet cosplay and not spend a single cent on the cosplay you want to do. No, it won't be accurate but that's the fun of Disneybounding. You take the inspiration from the character you wish to do and put together an outfit that represents that character, whether that's the colouring of the character's outfit, or accessories that scream whichever character you want to do. Of course it doesn't have to be just Disney! You can do this for whatever character you want; Marvel, DC, Star Wars, whatever you want! It's a great cheap way of cosplaying without actually spending a whole load of money on a proper cosplay you want to do. Of course you can always do the actual cosplay afterwards, but this is a nice little bookmark to keep you inspired and still cosplaying in a fun way!
This right here is a little example of a previous Disneybound I have done when I went to Disneyland Paris about two years ago. I did Peter Pan, if you couldn't tell from the outfit itself. I used mostly greens, so green trousers, green top and a green hoodie (because it was freezing in Paris!) and of course I had to add a little red feather to my hair and a feather clip, all inspired by Peter Pan's hat with the red feather in it.
And yes, people recognized it online when I posted it! Still a great feeling! Also, you guys should check out the King of Disneybounding, Leo Camacho!
BUDGETING
Budgeting is something I've discussed before and that all comes with planning as well! You can read all about that in my previous article on CosPlanner and budgeting, but let's just recap, shall we?
Take one cosplay, break it into parts and see what you actually need. Write down each and every piece that you'll need to buy or make and do some research; how much will it cost, how many items will you need for one single thing, ie; worbla or anything like that.
Once you've got that list down, you can add everything up and see how much you're gonna be spending on this one cosplay. Sit yourself down, find out how much you're bringing in each month with your own income, minus your expenses and what not, and you can figure out what weeks are better for buying a piece of your cosplay. If you're working with someone, a commissioner, you can always ask if it's possible to pay in instalments and most will oblige.
Basically, it's still all about having fun when it comes to cosplaying! Never stress over your expenses when it comes to it because… well, that can take the fun out of it and no one wants that!

Have you ever done a Disneybound cosplay? Ever bought anything in the sales for your cosplays? Got some ideas for budgeting? Let us know in the comments!