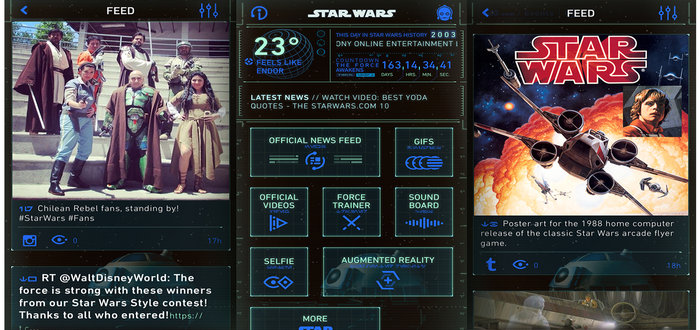 App Of The Week: Star Wars
The Star Wars App is the official mobile connection to a galaxy far, far away. This is the perfect app for the Star Wars fan who can't stop thinking about the latest movie in the franchise Star Wars: The Force Awakens, much like myself!
This app contains a mix and gathering of features that guides you through the Star Wars universe. In fairness you can tell straight away that it is trying to draw you straight in. Once you install the app you are able to choose what side you want to be on: The Dark Side, The Light Side or a neutral droid. The dashboard will change based on your choice.
The first feature I noticed that this app has is a selfie function. This allows you to place your face on the body of Princess Leia or show yourself making friends with the stormtroopers.
Something more fun is the soundboard. Users are able to replicate a whole host of sounds from the films including Vaders "NOOOOOooo" and my favourite "It's a Trap!"… meetings have never been the same with that little sound.
Jakku Spy is a very promising feature that allows you to spy for the Resistance in Jakku where our main protagonist Rey is based through a series of virtual reality videos. This is best used with a Google Cardboard viewer though but you can work away without it.
One of the most disappointing features is Lightsaber training particularly  because it would be the one that I would be most excited about. The front facing camera is used so that it looks like a ball that is floating in the air for you to hit with your lightsaber. This sounds great and would be great but I find that if the background is bright the lightsaber doesn't work and it is very hard to see. Very disappointing but hopefully there will be improvements made to this as the franchise develops.
Available for free on iOS and Android. Enjo !