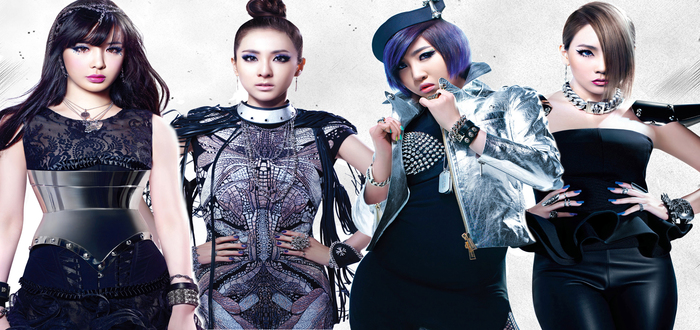 2ne1 Offend K-Pop Fans By Being Absolute Rock Stars
If you've been inside a night-club anywhere in the world in the last six years, chances are you've heard the razor-sharp dirty-dutch bass of 'I Am The Best' by 2ne1, one of the most popular girl groups ever to come out of K-pop super-stable YG Entertainment (also home to BigBang and PSY).
What you might be less aware of is that 2ne1's position in K-pop's ruthless class system has been consistently undermined by rumours of unhappiness in the group; mostly due to one member skipping off to the U.S to make a solo record in English, and another getting caught at the airport smuggling drugs into Korea.
In CL's case, fans have generally been supportive of her endeavors, but in the case of Park Bom, the reaction has been much less positive. Despite the fact that these 'drugs' were prescription drugs, prescribed to her by an American doctor, that just so happen to be illegal in Korea but were returned to her following review of her medical records, K-pop fans the world over have whined at length about how she should "self-reflect" and how the time isn't right for her to "make a comeback" (K-pop speak for 'do something').
Well, last weekend CL appeared on stage at the Mnet Asia Music Awards. She wasn't alone. And people lost their shit.

After banging out her current single, the absolute trap monster 'Hello Bi+ches', CL is joined on stage by Minzy, Dara and, lo-and-behold, Park Bom, for a performance of 2ne1's smash hits Fire and I Am The Best that works the entire audience into a frenzy. Unfortunately, it also worked K-pop fans into a frenzy. One of whiny, entitled bitching.
"Did Park Bom even self-reflect?"
"What did they do this year to come out? They should be ashamed, they'll be the first and last girl group to do drugs and come out to an awards ceremony… it seems like."
"Why is a criminal out here?"
"No matter how important an awards ceremony is, and how strong Yang Hyun Suk's pressure is, this is not right. Do fans still look like dupes? When has our country been lenient on drugs?"
"She said she would self-reflect, but she did plastic surgery… Besides Dara, they were all busy changing their appearance kekekeke. Park Bom and Minzy with plastic surgery and CL with her makeup."
Yes, that's right. Rather than discuss the fact that arguably the most internationally renowned girl group in k-pop don't absolutely hate each other after all, or the fact that CL still considers herself a member of said group despite rubbing shoulders with the biggest names in the U.S music industry, or even the fact that her solo album is probably going to be insane, the conversation fell to why Bom should be allowed to perform after her scandal, whether or not Minzy had plastic surgery (a remarkably common occurrence in the k-pop world) and how CL did her eyeliner.
So let's clear it up. Bom got up on that stage because she has balls of steel and deserves to be there. CL proved she's worth every ounce of money Scooter Braun has poured into getting her stateside, Minzy and Dara proved they're still as devoted to 2ne1 as they've ever been and together they raised a giant middle finger to the entitlement that exists in the world of Asian pop music. People are pissed off? Good. That's what the best music does.
And 2ne1 are the best.
***
Comments taken from allkpop.com