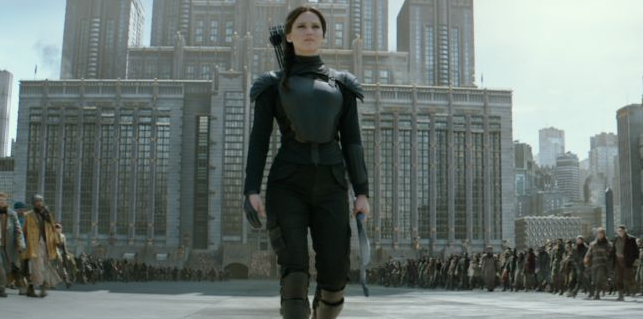 Style Saturday: Mockingjay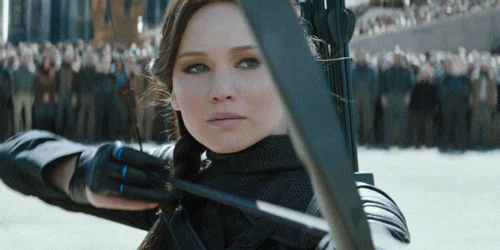 Well this week has seen the release of Mockingjay Part 2, which (as most of us know) is the final part of the Hunger Games trilogy! I personally haven't seen the film yet, but I think it's safe to say that the costumes are definitely going to stand out! And that is why Mockingjay is inspiration for this week's Style Saturday! We're going to look at some warmer looks for you guys to keep bundled up in this blustery weather, just try not to get involved in any government overthrows or presidential assassinations.
Now, I personally don't consider myself fashionable in any sense of the word, I don't follow it, in fact most of the time I hate what's considered 'fashion', but, I do like to find inspiration in media, so comic books, film, tv shows, that sort of thing. So take a look at the following two looks and see if you're inspired to walk down the street with your head held high like a certain Mockingjay herself.
KATNISS EVERDEEN
Now it'd be silly to do a Style Saturday inspired by Mockingjay and not do an outfit based off of Katniss herself, the Girl on Fire. Katniss has come a long way throughout the film series itself and we've seen her go from wearing a light dress with nice braids to seeing her in black armour, ready to take on the Capitol in battle! I wanted to focus more on the darker side of Katniss because that's who we've come to see in the past two films, both part one and part two of Mockingjay, but of course I wanted to throw in that splash of colour as an homage to Katniss' red armour in the promo shots for Mockingjay Part 2. So without further rambling, lets take a look at the outfit that's been picked out and see how you can get the Katniss inspired look!
First off, I wanted to go with a leather jacket, or faux leather jacket because just stepping out in a leather jacket can often feel badass in itself! When trying to emulate Katniss' armour from Mockingjay Part 2, I wanted to go with something asymmetrical as her own breastplate is quite asymmetrical in the film and the promo shots. The black jeans could have easily not had rips at the knees but lets be honest, it looks far edgier and if you're going to be in battle, you may as well get a few scrapes along the way. If you don't want to show off some skin, you can easily put patches behind the rips and you'll still get that ripped effect! Boots are a big thing for me for the Winter time, purely because it's wet and cold outside and those boots will become your best friend, not to mention, Katniss definitely does not run around in heels so these boots represent that badass side in not only Katniss, but you as well! Of course, if you're going out for the night, you can always swap these boots out for a Mary-Jane heel or maybe a kitten heel if you don't want something too high.
The splash of red in the top and the scarf is there for that red armour Katniss wears in her promo shots for Mockingjay Part 2. Open up that black jacket and let that splash of red really draw some attention to yourself. Don't be afraid of a bold colour! Own it! A desert scarf is a good alternative, and a string top or camisole can be dressed up with accessories or dressed down for a day look with just your jacket, jeans and boots. As for the jewellery, the arrow ring is obviously there as a nod to Katniss' prowess with a bow, and the earrings are a nod to the Mockingjay itself. You can keep accessories lowkey, or you can layer up bracelets and necklaces if you feel like really dressing up the look.
Jacket €46,Cami €11,Jeans €36,Boots €42,Scarf €10,Ring €7.46,Earrings €17
Total: €169.46
GALE HAWTHORNE
Okay, so there was a debate within me on whether or not I should do Gale or Peeta… and well, Gale won out purely because I think his style, especially in the last two films, is almost on par with Katniss'. He's battle ready, yet still soft in some ways, so lets get down to seeing a Gale inspired look for you guys out there!
With this, we've kept it quite simple! A dark grey jean can be substituted for black, or even a slightly lighter colour. Khaki even works, and if you don't want a jean, then go for a cargo pant because it'll still give you that Gale feel if that's who you want to emulate. A military style, or inspired, jacket can look smart if you do up buttons down the front, or you can leave it open for a more casual look. With pockets and lapels down the sides and on the shoulders, it's a sure thing to make you look like you're about to march into battle with President Snow. You can go wrong with a button down Henley, or at least that's what I think. A light coloured shirt or t-shirt underneath that dark jacket will brighten you up just slightly, and the buttons stopping just midway down the chest can be done up all the way or left open just a few. Roll up the sleeves for a nice casual look when you take off your jacket. Boots are a must, although if you want to dress it down then you can go for black or dark converse. A black belt will offset the entire thing with just a tiny bit of buckle showing beneath your shirt. And finally, a dark black wrapped scarf, preferably knit or desert scarf will not only keep you warm, but finish off that stylish Gale look.
Jacket €26,Top €6.54,Jeans €47,Boots €28,Scarf €19,Belt €14
Total: €140.54