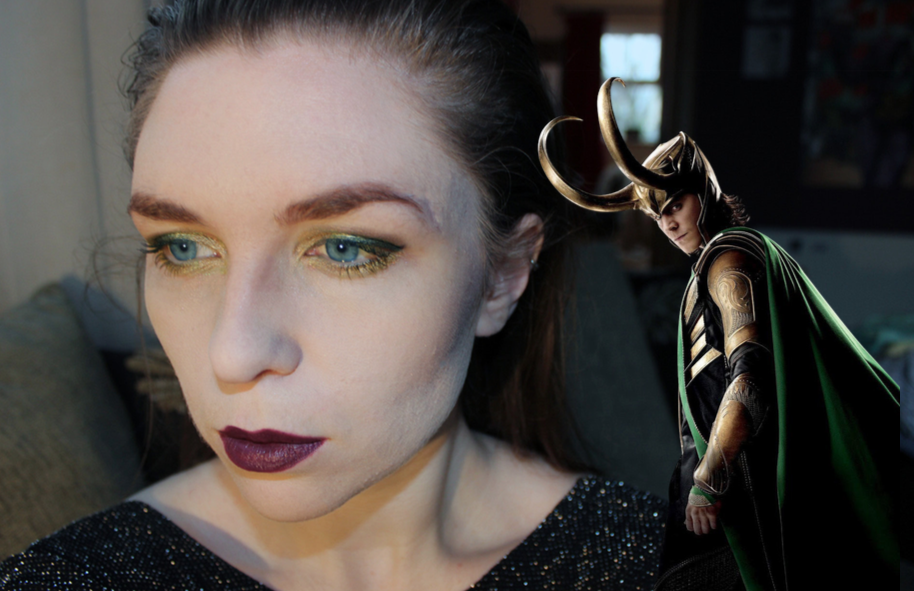 Style Saturday: Get The Loki Look
I've spent the day re-watching the Thor movies and seeing Loki strut around in his fabulous gold and green ensemble has inspired me to add his flair to my everyday life. At least on occasion.
Although I'd love to walk around every day with dramatic winged liner with emerald green eye shadow, slicked back hair and black lipstick, it isn't exactly subtle and my boss probably wouldn't be super happy about it.
So this week for Style Saturday I figured I'd try a more casual approach and try and put together a very wearable every day look inspired by Loki.
Day time look
I didn't want to go too hard on the daytime look as I don't usually go overboard for my daily routine. I pulled my hair back from my face, twisted it at the nape of my neck and then went about doing my makeup.
After you apply your foundation, make sure to use a highlighter on the top of your cheekbones to give you that ethereal glow that only Asgardians seem to have. I used the Skin Wow three-way highlighter by Seventeen. Set with translucent powder.
Any green will do for your eye shadow but I went for a forest-coloured hue as well as a light gold colour (I used L'Oreal's Lumiére). Make sure to use lid primer before applying the shadow as it will intensify the colour and it will last longer.
Blend the green out so that there are no harsh lines and add a darker shade of green to the outer lid to add a little dimension. Then lightly add gold to the inner corners of your eye lid and use a thin brush to drag the gold underneath your bottom lashes over to the outer corner. Alternatively, if you have a gold liner, this will work too.
Using a black gel liner (I used one with a little gold shimmer in it), paint a wing onto your lid, being careful not to smudge the green. Then use a lip pencil (or a lip brush) to line your lips and fill in with a dark red or light purple (I used Black Cherry from Revlon but a budget option is Aubergine from New Look's Pure Colour range).
Add some gold accessories and there you go! A very simple Loki-inspired look that's perfectly wearable in the day time. If you're heading out clubbing and want something a touch more dramatic then check out the night time look below!
Night time look
There isn't much difference between the two looks as completely changing things up isn't necessary when transitioning from day to night time. All I did was use a darker shade of purple for my lips (I used Kooky by MUA Deluxe but you can go for a blacker shade if you prefer) and I added a black shadow to the outer corners of my eyes and then blended with the green from the previous look.
Then I added thick gold on top of the green and blended again. I also dusted a little bronzer on my cheekbones to give them more of a sharp look. And that's it! Stick on some gold earrings, slick your hair back with a little hair gel and extra strength hair spray and you've got the Loki look.
Alternatively, you could pull your hair back into a high pony tail and add a thin gold head band as an homage to Loki's helmet.
Have you tried a Loki look before? How did it go? Let me know and post any pictures in the comments!