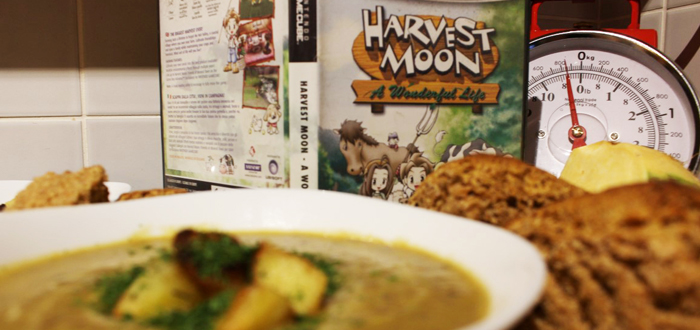 Geek N' Bake: Harvest Moon Winter Soup & Pepper Bread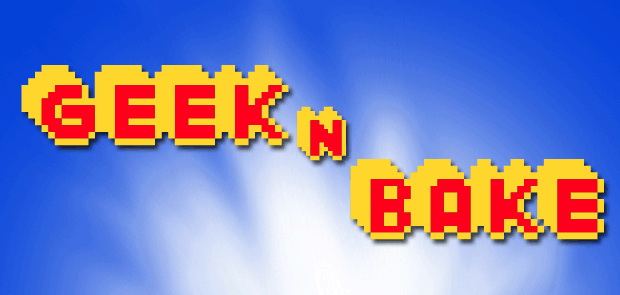 It's my favourite time of year, honestly I'm in my element when it begins to pour rain, when the wind picks up, when it gets darker sooner and when the cold wraps itself around you. You have to wrap several layers just to keep the sharpness of cold out everything feels fresh and the air makes you feel alive. Yes I realise that this sounds nuts, that most people prefer the sun, the heat and warmth. I don't know why I love being cold so much I just do, I'm just at my most comfortable.
The best thing about the cold? It's easy to get warm especially when you walk in from the cold, wrap yourself in a blanket, sit down with a giant mug of tea and just game until you're snug as a bug.
When the weather is at its worst, there's nothing like playing one of your favourite games, I love to waste my time feeling like I'm productive. Some people turn to Sim City, Civ or even The Sims but for me the Harvest Moon series is one my favourite places to spend my time. You plant, you grow and you reap.
During the winter time you can harvest potatoes, turnips and carrots and it got me thinking these are some of the best vegetables for soup and nothing warms you up faster or better than a big bowl of soup. Throw some home-made bread into that mix and you've got the recipe for some food for your soul and heart.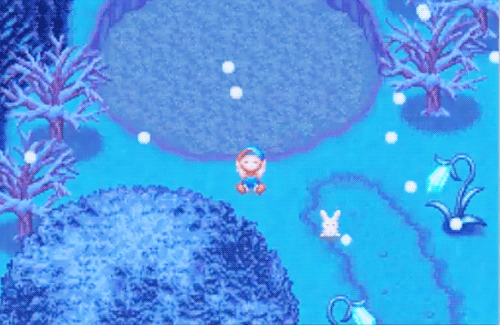 Bread
DIFFICULTY
Hard
TIME
95 minutes
INGREDIENTS
475g course wholemeal flour, 300ml warm milk, 7g fast-action yeast, 15g unsalted soft butter, 1tsp salt, 1.5 tsp crushed peppercorns, half tsp chili powder (optional)
PROCESS
Oh boy! Making bread! I suck so hard at making bread so when I tell you that this recipe is foolproof I mean, I Declan Doody would find it next to impossible to mess this one up! Baking bread is about taking your time, hence why I've slapped a 95 minute timer on this one.
(Note, not everyone finds bread making an impossible task… I'm just a bread wuss!)
Preheat the oven to 225 degrees(250 degrees for non-fan assisted ovens) and line a baking tray, a bread tin isn't necessary.
Start by measuring out your ingredients, you'll be combining everything  pretty quickly. Combine the flour, salt, yeast and pepper (and the chili powder if you're using it) together in a large mixing bowl. Grab one that you carry under your arm though because that will be important later on.
Add the butter to the bowl and mix it into the flour using your hands.
Make a well in the bowl and pour half the warm milk into the bowl. The milk shouldn't be warm enough to handle without burning your hands, I find measuring out 200ml of cold milk and adding 100ml of hot water gets the temperature right.
Mix the milk and dry ingredients together and then continue to add the remaining liquid until it's all combined. Your dough should soft and manageable but shouldn't be so wet that it sticks to your fingers as you mix. Don't worry if it's too dry or too wet, just add more flour or milk depending on your situation.
Once fully mixed, you're going to need to start kneading the dough. You can do this on a flat, floured surface or if you want to cut down on the wash up you can do this in the bowl (see I said this would be important). If you're going to knead in the bowl or on a counter top, make sure to flour the surface! You'll need to work the dough for about ten minutes, so I do it in the bowl because I can walk around or even take the mix into the living room and watch some TV.
Ten minutes are up? Great mould the kneaded dough into any shape you want for your bread and place on the tray. Cover it with a warm damp tea-towel and store in a warm dry space (I pop mine into the hot press) for 45 – 55 minutes, user a timer.
While the dough rests, now is the perfect time to prep the vegetables for your soup and save some time, skip down below to see what you'll need!
Once the dough has rested enough, take it out and pop in the oven, I make a shallow cross mark in mine to help quarter later. Bake in the oven at 230 for 15 minutes. After the time is up draw the temperature to about 190 degrees and bake for another 15 minutes.
Remove from the oven and allow it to cool.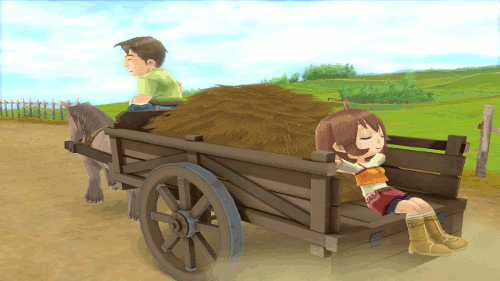 Soup
DIFFICULTY
Easy
TIME
40 minutes
INGREDIENTS
2 large chopped onions, 5 carrots, 3 medium potatoes, half a turnip, 250g dried green lentils, 1.5 tsp cumin, 1 tsp salt, 1tsp nutmeg, 1 tbsp butter, 1.5 litres of vegetable stock, 200ml milk
Extra: 300g cubed potatoes, Greek yoghurt
PROCESS
Everyone should know how to make soup! It's one of the most versatile dishes and can be made cheaply and stored for later use. If you took the time to prep your veg while your dough rested, you've saved yourself some time. If not and you decided to rest with your dough, then hi-five because that's what I did too!
Now prep that veg! Chop the onions finely, then peel and wash the rest of your vegetables. Cutting into turnip is a little tricky so make sure you're doing so on a non-slip surface and you're using a good knife.
In a large sauce pan, sauté the onions in the butter for about five minutes or until they're soft and translucent then add your chopped vegetables for another five. Make sure to stir the vegetables occasionally so they don't brown.
De-seed and chop the red chili, adding it and your cumin, salt and nutmeg to the pan and stirring the contents together. Add the vegetable stock and lentils to the sauce pan and bring to the boil. Reduce this to a simmer and leave for 20 minutes, your best indication will be the lentils, if they're soft then you know everything else is good to go.
I was having this soup for dinner and wanted a little more to go with it so I decided to make some potato croutons. Peel and cube about 300 grams of potato and par boil. Drain the water and allow to cool before pouring into a roasting tin. Drizzle a little olive oil, add some cumin and a little rosemary and shake together, ensuring a good coating. Place in the oven until they're golden brown.
Once the lentils are soft, lift from the heat and blitz the soup together either in a food blender or using a handheld processor. Put back on the heat and add the milk. I should state that if you want you can also use coconut milk or even just water if you'd like. Depending on how you like the consistency of your soup, you'll want to work with different liquids, using milk gives a richy, creamy but heavy thickness to the soup.
Add two heaped ladles of soup to a big bowl, add some of the potato croutons and a spoon of the Greek yoghurt and some parsley to garnish. Serve with slices of the pepper bread and enjoy.
Sit down, grab a blanket, wrap up and let the weather roar on outside and let this soup warm your heart and it's best enjoyed with some company and good conversation.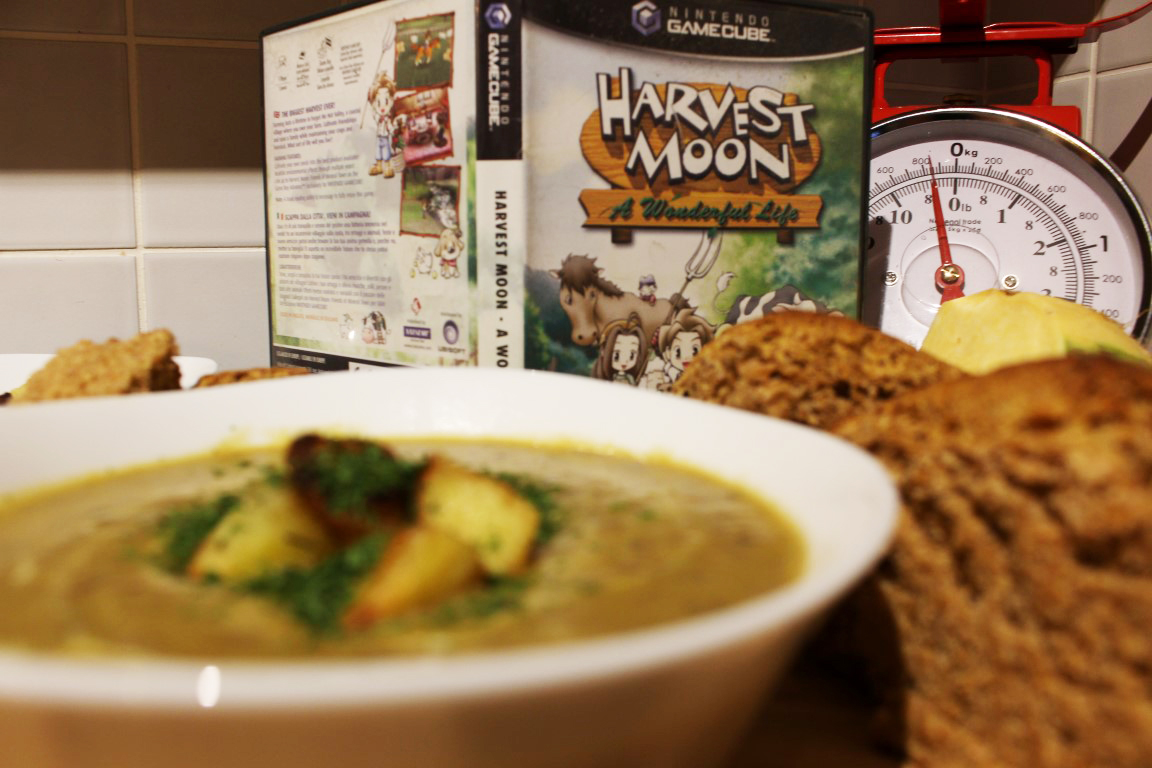 Editor-in-Chief, part-time super villain and hoarder of cats. If you can't find me writing, I'm probably in the kitchen!