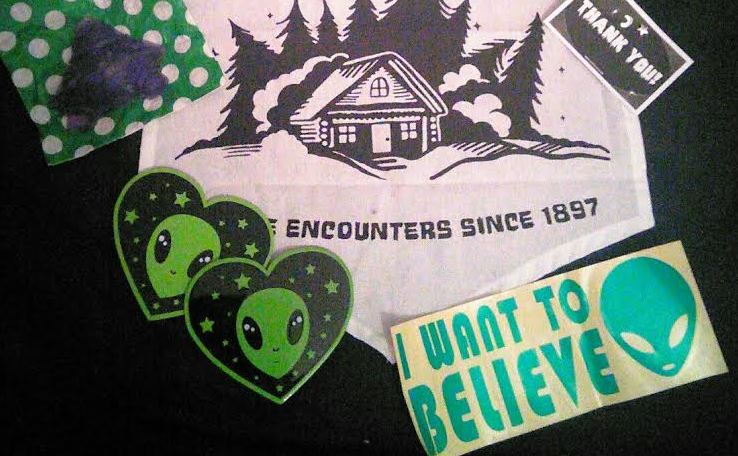 We've all heard of nerdy and geeky subscription box services such as Loot Crate and Geek Fuel, (check out our unboxing videos on YouTube here) but have you ever thought to yourself, "Man, I really wish there was a subscription box filled with spooky and creepy cute goodies?" Well, wish no longer! Let us introduce you to Spooky Box Club!
Spooky Box Club (SBC) is a new subscription box service that started up just this past January and is UK based. Much like Loot Crate, SBC is a monthly subscription service where you can not only join and receive a goodies every month, but you can also buy one-off boxes on their website. As well as monthly or single purchases, SBC also sells individual items from their collections in their online store, so if you see something that you just have to have but the subscription is just too steep for you, keep an eye out and grab it in their store!
Seeing as SBC is UK based, all their prices are in pound sterling, but we'll be converting that to euro for your convenience. All prices include shipping to the Republic of Ireland.
While SBC do sell one-off box purchases, they're slightly more expensive than signing up for a subscription. A monthly subscription will cost you €50 (give or take a euro depending on exchange rates), while a once off would be €70. Now we're well aware that's more than your average subscription box, but if you're a lover of all things creepy cute, this might just be a must-have for you.
Now you're probably saying to yourself, "Okay, I get all the technical stuff, but what makes Spooky Box Club worth spending all my hard earned cash on?" Well, that's where we come in! We've been a member of this ghoulish club since January, when the first subscription called 'Bat in a Box' was released.
As we're waiting to receive September's 'Enchanted Forest' box, we'll tell you about August's 'Alien Invasion', what was in it and what were our favourites!
With every package you receive, there is a little 'Thank You' black spider web business card and a contents card decorated with their bat logo, moons and little bones. But the creepy cute doesn't stop there! Along with your ghoulish goodies, the box is packed full with confetti to match the theme.
The 'Alien Invasion' collection included:
• Abduction Guaranteed Mug
A custom item exclusive to SBC, a black ceramic mug adorned with tiny green aliens and a space ship
• Alien Coaster Set
Another custom and exclusive item, two black and green heart coasters with adorable alien faces
• Close Encounters Screen Printed Wall Hanging
A white wall hanging with a screen printed graphic in black of a cabin in the woods and a UFO, captioned 'Already Here – Close Encounters since 1897'
• Rocket/Spaceship Hand Soap
Exactly like it sounds, purple rocket or spaceship hand soap scented like orange and bergamot
• Wacky Astronaut Charm Necklace
An adorable astronaut charm along with a little green planet charm on a gold chain
• 'I WANT TO BELIEVE' Vinyl Bumper Sticker
A bumper sticker with the classic phrase in metallic green along with an alien head
• Moon and Star Stud Earrings
A pair of silver studs of a crescent moon and a single star
• Dual Galaxy Glass Pendant
A double sided pendant, featuring a different galaxy on either side, domed with glass for a 3D effect
• Handcrafted Gourmet Lollipop
Traditional spiral lollipop in Orange Sherbet
We're pretty happy with the 'Alien Invasion' collection. Our favourites were definitely the Abduction Guaranteed mug, Moon and Star studs and the Dual Galaxy pendant!
Keeping with the spooky theme, we would definitely give the 'Alien Invasion' box 4 out of 5 bats!
Something worth mentioning about Spooky Box Club is that a portion of all the money they make from each month's subscription goes to charity. A new charity is chosen for each month, and this box helped raise money for the Solar Electric Light Fund (S.E.L.F).
So there you have it! Everything you need to know about the frightfully awesome Spooky Box Club! Whether it's for yourself, or the alternative ghoul in your life, we definitely recommend signing up for this creepy cute subscription box!