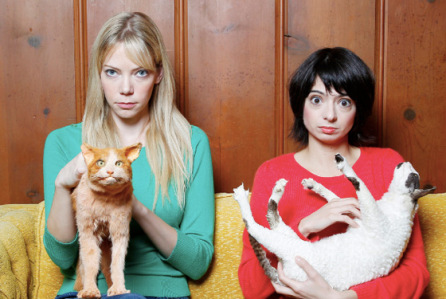 Riki Lindhome and Kate Miccuci are Garfunkel and Oates. Named after, as they describe, "two famous rock and roll second bananas" their comedy-concept-prog-folk songs have been mainstays on YouTube since 2007 and their live shows continue to sell out comedy venues in America. Their new album, Secretions, is a worthy follow-up to their previous two masterpieces Slippery When Moist and All Over Your Face. These two jolly girls wield disgusting imagery and foul language like experts yet have a devastating wit and a sensitivity which eliminates any air of self righteousness often found in observational comedy. While some of their songs are hilariously profane and would struggle to get past even the most liberal of TV censors, I have chosen five that are only just slightly on the wrong side of NSFW but still maintain their astute wit and infectious personality.
The Fade Away
Breaking up is never easy. Well it can be but it certainly is never pretty. Some consider a blunt force approach usually adopted by men to be heartless but Kate and Riki argue that the alternative method preferred by women is actually a lot more unpleasant and needlessly cruel. Only one F bomb in the whole song which considering the subject matter is a remarkable feat of restraint.
Pregnant Women are Smug
Their breakthrough ballad dealing with something that everyone knows yet nobody mentions. A music video was made for this to as a pilot to their HBO show, which sadly never got picked up for a full season. Here though is a live version, showcasing their chemistry with each other, rapport with an audience and willingness to laugh even in the middle of a song.
Sports Go Sports
After Dublin's All Ireland win and the 2015 NFL season just starting, this song is perfect for those who hate sports and are sick of hearing about them. this song is also recommended for those who love sports yet don't really know why.
Loser
Now and again, Garfunkel and Oates record a poignant yet emotionally uplifting song. While some are tinged with irony, this one uses brutal honesty as a tender way of showing support to those who try their best and fail miserably. A must for anyone who has ever felt like a loser.
29/31
A song about the same woman two years apart. This is a slightly censored but no less compelling version performed on The Late Late Show (sadly, the American one) and featuring a short interview afterwards with guest host Kunal Nayyar star of The Big Bang Theory on which Kate and Riki occasionally feature and even contribute a song or two.