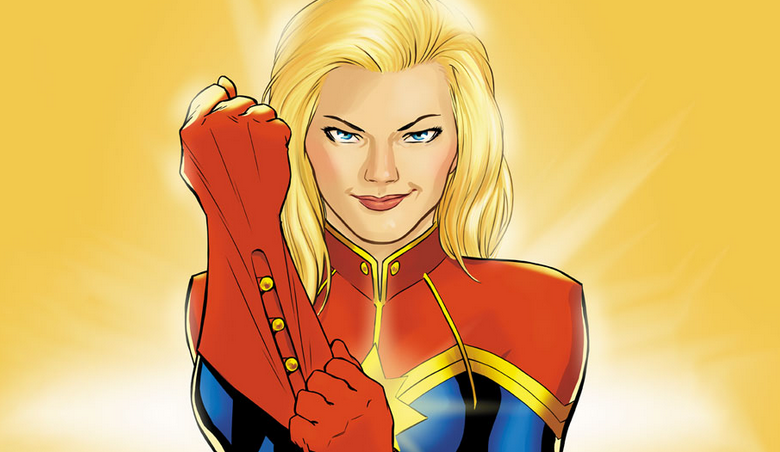 Comicphiles: Injecting Captain Vader
There's nothing like having a few comics waiting on your bedside locker when you need to unwind before going to bed. For me, it used to be a good book, but now that I'm a big stressed-out adult I don't have time to read anything substantial. Something short like a comic book is perfect.
When you have these short bursts of time in between work and laundry and making dinner and just life, you want it to be something you don't regret wasting time on. In our weekly Comicphiles column, we go through #1 issues to see whether they're good or not so that you don't have to. Up this week is Captain Marvel, Injection and Star Wars: Darth Vader.
Captain Marvel
This is yet another character in a long list of characters that I've never been that interested in (Green Lantern, Green Arrow, Superman…) but, as this is Carol Danvers' transition from Ms. into Captain, I figured I should probably pick it up and give it a try. The first few pages honestly weren't that interesting and, by the way it was reading, it seemed like just another comic with just another hero being followed by bad guys.
However, once it picked up the pace it really was enjoyable. Captain Marvel herself, with her humour and class, is a very likeable character and one that I wouldn't mind getting to know a little better. Some of the characters introduced at the start kind of dropped off the page there but I imagine that'll be resolved or at least continued in the second issue.
Along with some beautiful art (vaguely reminiscent of pop art), the comic brings up some great themes of childhood simplicity and wonder, sacrifice and looking for one's place in life. It's very easy to relate to the story and the issue, despite some of it being set on another planet, because of the down-to-earth quality and personality of Carol Danvers.
Best line: "These are not the droids you're looking for." "It was worth a shot."
Will I Continue To Read?

For sure! 
Injection
I picked up a copy of this at Dublin Comic Con a few weeks ago and even got it signed by artist Declan Shalvey himself
while I was there. However, with a huge pile of back issues to get through and a hectic schedule, it lay forgotten, wedged between copies of Big Bastard before I plucked it out and read it.
I was initially drawn to the stunning cover art, as I usually am when browsing, and after finishing the first issue I was glad I picked it up. The story is about five eccentric geniuses who 'poisoned' the 21st century with something called the Injection and they now have to deal with the consequences of their actions. Although the first issue is quite confusing with titles and the names of organisations thrown around as though we should know what they are, but it was intriguing and the refreshing characters had me pining for the next issue.
I don't think it's necessarily a bad thing coming away from an issue feeing confused, as sometimes that's exactly how the story wants you to feel. I didn't have all the answers to my questions, but that's exactly what makes a story so compelling. The characters in particular are so interesting; I don't know what it is about a really screwed up group of people, but I'm just drawn to characters who are written like that. They're so much more colourful like that, especially when I'm not yet sure if they're meant to be the good guys or the bad guys.
Best line: "Get me a fucking sandwich."
Will I Continue Reading?

Definitely, this series has me hooked! 
Star Wars: Darth Vader
As a huge Star Wars fan myself (I like to wear a specific pair of galaxy-themed leggings when I do anything Star Wars related), I pretty much love anything to do with the franchise, whether it's the films, the books or Yoda key rings made out of Lego. Although I've never ventured into comic territory before, I recently picked up the first issue of a series starring one of my all-time favourite villains, Darth Vader.
The comic is set after the death star was destroyed and the Empire has taken a huge blow with Darth Vader shouldering most of the blame. Needless to say, Darth Sidious isn't best pleased with his apprentice, but in this comic Vader comes across as a lot more like a younger Anakin than his notorious self, which I found intriguing.
The issue gives great insight into Darth Vader and his mannerisms; much more than I experienced through any other medium, so it was exciting seeing more of his complex personality. Although some of the fight scenes were a little dodgy, mainly due to awkward panel merges, any page with a full length Vader was captivating. Perhaps it's because I've felt the impact of his presence on-screen so many times and that's why I thought certain pages were stronger than others, but his chilling and strong presence is undeniable.
Best line: "I have only killed two. Do not make me reconsider my generosity."
Will I Continue Reading? Yes, I love me some Vader!  
Have you read any of these comics? Let us know what you thought in the comments!