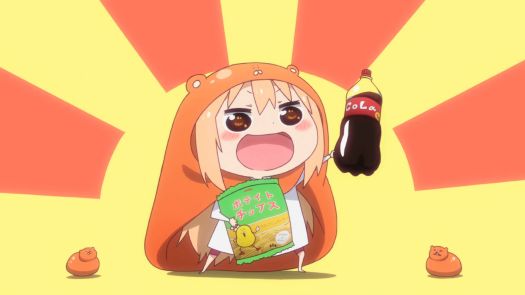 Otaku Digest: God's Sister Caught On Camera
Hello August, didn't see you there! Where is the time going? We are well and truly working our way quickly through this summer season. Welcome anime fans far and wide to the newest instalment of Otaku Digest. We are here every Sunday making sure you all get your quota of new anime for the week. Has anyone else felt like this summer season has been more simmer than sizzle? There really hasn't been any heavy hitters thus far this season, but hopefully we have been saving the best for last. Up this week are God Eater, Himouto! Umaru-chan and Joukamachi no Dandelion.
God Eater
First we are taking a look at God Eater, an action, fantasy, supernatural, military and demon anime that originally began airing on July 12. God Eater takes us to the year 2071 in The Far East where mad gods rule. How did these gods come to be? For that, we travel back to the early 2050s where foreign life forms called Oracle Cells appear and begin consuming and taking over all life that is on Earth. The feelings surrounding these ravenous and widely adaptable creatures shifts from dread to awe and finally they are dubbed as aragami. Humanity has been faced with a creature that is immune to their conventional weaponry, driving humanity each day closer to the brink of extinction. Finally humanity have a glimmer of hope when the God Arcs are established – an elite force of living weapons who have been fused with Oracle Cells. The world has been emaciated by the mad gods, but can the God Eaters take back and win a lost war?
Let me start by saying that I just could not get used to the animation. It stayed true to the subject matter of the game the titles originates from, and it was an interesting blend between gaming animation and traditional animation, but I did find it very distracting at first. It is very prominent, especially when it comes to character design but thankfully, as the episode goes on, they blend the two techniques a lot better. The entire premise of this anime, although interesting, is similar to the whole 'humanity behind a wall' aspect of Attack on Titan. Leaving that aside, the actual 'aragami' themselves are outstandingly designed; they would strike instant fear into any human's very soul. This episode was very hit or miss for me, however, as it really did go up and down in its tempo but, like a lot of anime, they really saved the proper action to the very end. That closing theme and battle was outstanding. For anyone that may give up on the anime before this, stick with it. It is truly worth it, but hopefully the rest of the anime picks up the pace a bit and matches that second half.
Will I Continue To Watch? If only for that last part of the episode, yes I am willing to give this anime a chance.
Himouto! Umaru-chan
Moving swiftly on to a little more seemingly lighthearted, comedy, school and slice of life (why me?) anime called Himouto! Umaru-chan, which originally aired on July 9 and was adapted from the manga of the same name. In the anime we are introduced to two sisters who are the centre of a sibling gag, but the main story centres around Umaru, the little sister of Taihei, who is the ultimate sister to idolise. Not only is she beautiful, she dominates in sports and in academia. How could anyone live up to the reputation of such a sister? Well, Himouto (meaning beautiful little sister), aka Umaru, has a secret of her own.
I have to give this disclaimer every time a slice of life anime comes up on Otaku Digest; it is a personal peeve that I have with the genre and I realise there is good slice of life out there, but I do not usually enjoy them. I do, however, give each and every anime that I watch the benefit of the doubt, including slice of life. When I first read about this anime I really didn't know what to think, but I did like the outer message that shows that the person we see every day and the person they actually are at home can be different. It's interesting that Umaru puts on a front while she is at school but leads a completely different life while at home but, my god, is her home self very irritating! She basically leads an otaku life style but is even more spoilt and irritating since she throws a tantrum when she does not get what she wants. I am going to have to admit I was entertained by this anime and I have no idea why! Nothing actually happened. It was simply following the life of this eccentric lazy girl and her brother who has to deal with her, but it was actually really entertaining. I am pleasantly surprised.
Will I Continue To Watch? It is the kind of chill anime I would watch just for fun, so yes.
Joukamachi no Dandelion
Finally, we end our week with another comedy, seinen and slice of life anime (really?) that aired on July 3 and is called Joukamachi no Dandelion. Within families there is always going to be rivalry between siblings, but in Joukamachi no Dandelion the anime takes this to a whole new level. Within the anime there is a royal family which consists of nine super powered siblings whose every move of every day are monitored and broadcast nationwide for the land to see. The people of this fine nation watch the siblings in order to have the ability to vote for the next monarch to take the throne. The main protagonist is Akane, the third eldest sister who in turn manipulates gravity. She is terribly shy and does not want to be caught on camera. Talk about a lack of privacy.
For once, the slice of life genre tag did not turn me off this anime instantly since I had actually wanted to watch this before knowing about the genre it belonged to. I loved the concept behind it and was praying it held up to my expectations. The entire powers premise behind the siblings is really interesting but the entire concept of finding the royal family as normal people is a bit on the nose; you throw in this whole thing with the cameras all over the town and it becomes too far-fetched to keep up with, but they actually manage to use this to their advantage, especially with their characters. Akane first comes off as really irritating but then when there is a bit more exposition of her you see why she is so shy and self-conscious but can still embrace her powers in order to deliver justice where it is due. It's a slow starter but once it starts to get into each of the siblings and their powers the story picks up and is interesting. I can see this becoming a good anime throughout.
Will I Continue To Watch? Yes, the anime was slow to start but I found it enjoyable and it is worth sticking with.
What have you been watching? Think any are worth sticking with? Let us know in the comments!