One of our favourite swash-bucklers, William Turner, is set to return to the Pirates of the Caribbean world as Orlando Bloom has signed back on for another film  in the franchise, Dead Men Tell No Tales.
Also starring Johnny Depp, Javier Bardem, Kaya Scodelario, Brenton Thwaites and Geoffrey Rush, Bloom confirmed his return when he came out on-stage at the D23 Expo. The last time we saw Will, he had signed on for eternity aboard the Flying Dutchman so he can only step on land once every ten years. His return will no doubt get the rumour mill spinning about the possibility of Keira Knightley signing on as well, but so far there's no information on reprising her role as Elizabeth.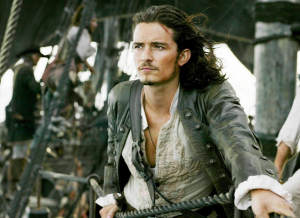 The official synopsis for Pirates of the Caribbean: Dead Men Tell No Tales is:
Thrust into an all-new adventure, a down-on-his-luck Captain Jack Sparrow (Johnny Depp) finds the winds of ill-fortune blowing even more strongly when deadly ghost pirates led by his old nemesis, the terrifying Captain Salazar (Javier Bardem), escape from the Devil's Triangle, determined to kill every pirate at sea…including him. Captain Jack's only hope of survival lies in seeking out the legendary Trident of Poseidon, a powerful artifact that bestows upon its possessor total control over the seas. 
The film will hit the big screen on July 7 in 2017.
Are you excited to have Bloom back? Will you be watching the next intallment of the Pirates franchise? Let us know in the comments!