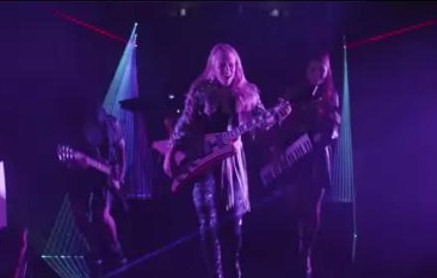 It's the worst kept secret in the world that we're huge fans of Jem And The Holograms here at The Arcade! Ever since that first trailer  dropped, fans of the hit cartoon have been anticipating every sliver of news that's released. Whether the upcoming film is already decided in your mind as being #NotYourJem or you're keeping optimistic, you need to see this trailer!
As far as trailers go it certainly gave us a lot to go on! And that cute little robot rolling on the floor is Synergy! Definitely a change from a projection of fierce 80s rocker. It's an interesting reinterpretation and it's certainly going to see us there front and centre on opening night.
Jem And The Holograms is set for release on October 23 and stars Aubrey Peeples, Stefanie Scott, Auroura Perrineau, Hayley Kiyouka  and Ryan Guzman, and will feature Molly Ringwald, and is directed by Jon M. Chu. 
What do you think? Did the trailer show too much? Are you pumped for this modern take on Jem? Or are you sticking to the cartoon and new comic series? Let us know below!