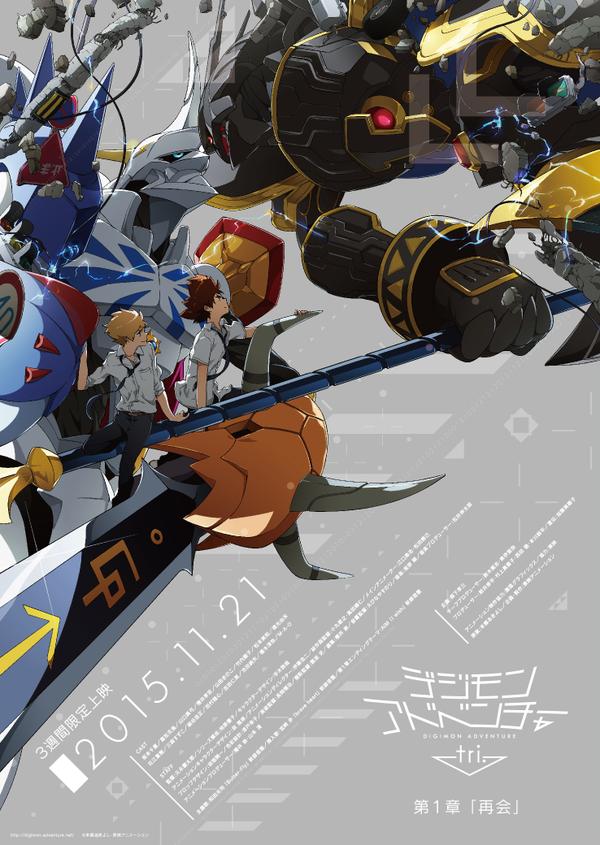 New Digimon Adventure Tri Trailer And Poster Released
The wait may be killing us, but slowly but surely we are beginning to get more and more visuals and information on the upcoming 6 part release of Digimon Adventure Tri this November. Toei Animation released the latest feature video for the first part Saturday.
The video not only shows us all the older digi-destined but also features the theme song 'Butter-Fly' by Kouji Wada which was also debuted at the Digimon Adventure Fes 2015 event the same day. The music for the upcoming release will see AiM (Ai Maeda) return for the ending theme 'I Wish' on the first part, while Kouji Wada takes on the opening theme and Ayumi Miyazaki also makes a return for the insert song 'Brave Heart'.
There was also a new a poster released for the series:
Digimon Adventure Tri: Saikai (Reunion) is set for release on November 21 with a three week run in Japanese cinemas. We will keep you updated on any possible releases on this side of the world.
Are you excited for the continuation of Digimon? Who was your favourite Digimon character? Let us know in the comments!